Grand Reopening August 15, 2021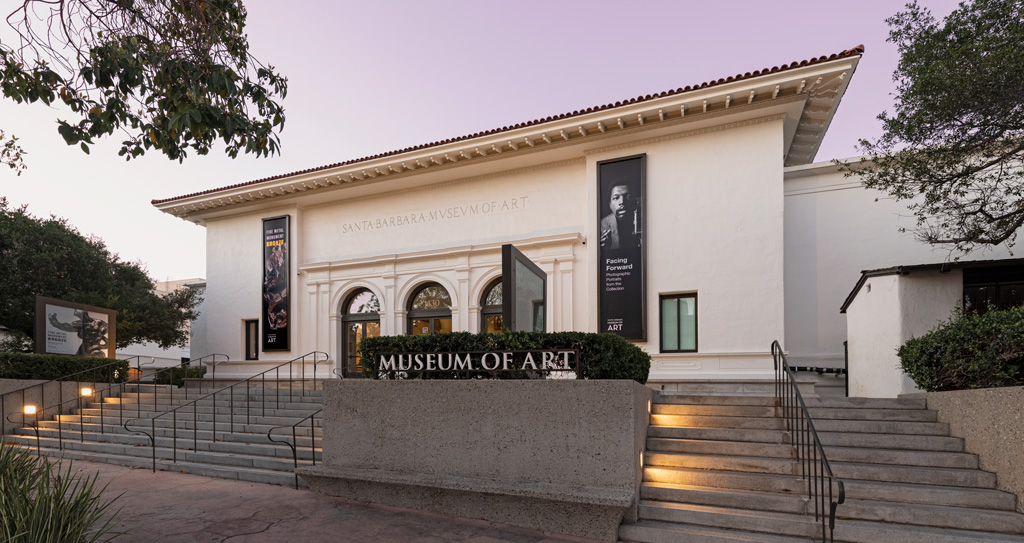 The Santa Barbara Museum of Art welcomes you back for the Grand Reopening of the renovated building on August 15, 2021.
After a six-year, $50 million project, the transformation is breathtaking­­­—including an enhanced visitor experience, new dedicated spaces for Contemporary Art, New Media, and Photography, and overall improvements that were critical in the handling and safeguarding a growing collection of art.
Marking its 80th anniversary this year, SBMA welcomes you back through the doors on State Street, into the original 1912 structure—the heart of SBMA and the Santa Barbara community.
Advanced reservations are encouraged for admission to the newly renovated galleries. Get tickets at tickets.sbma.net
August 15 is a Free Community Day! Make advance reservations at tickets.sbma.net
Activities on August 15
Live Music
11 – 12 pm
SlideWays
The SlideWays trombone quartet is part of the Santa Barbara Trombone Society (SBTS), which is an alliance of trombone players from SBCC, UCSB, Westmont College, local high schools, and community members of all ages. Quartet members: Eric Heidner, Lisa Price, Paul Gaddis, and Stephen Hughes. For more information, follow "Santa Barbara Trombone Society" on Facebook.
Location: Front Terrace
---
12 – 1 pm
The Bottom Line
The Bottom Line Brass has been playing in Santa Barbara for almost 20 years and ranges in size from 4 to 16 tubas and euphoniums. They play marches, polkas, waltzes, and drinking songs for restaurants, festivals, and private events. Members: Eric Heidner, Paul Gaddis, Michael Evans, and Chet Stussy. Follow Bottom Line Brass on Facebook for information about future performances.
Location: Front Terrace
---
2 – 3 pm
The Ukulele Orchestra
Originally formed in 2008, The Ukulele Orchestra is made up of amateur musicians in the Santa Barbara community. They perform in various venues around Santa Barbara, playing a lively combination of oldies, Hawaiian, and surf music.
Location: Front Terrace
---
Art-Making Activities
1:30 – 4:30 pm
Free Art-Making Activity
Photo Tryptychs
Celebrate the reinstallation of the Museum's permanent collection! Add soft layers of color using pastels and an oil medium to black and white copies of cityscapes, portraits, and landscapes featured in SBMA's photography collection. Assemble your reimagined works into a triptych on paper.
Location: Front Terrace
---
11 am – 5 pm
Coloring Book
All families receive a free copy of the Museum's bilingual Color Our Collection coloring book, comprised of line drawings of selected artworks from the Museum's collection, including paintings by Rufino Tamayo, Georgia O'Keeffe, and Claude Monet. The book features biographical information about the artists, along with questions that encourage closer looking.
Pick up at Visitor Services Desks or art activity tables
Grand Reopening Local Business Special Offers
Stay and celebrate the grand reopening of the Santa Barbara Museum of Art in downtown Santa Barbara with special discounts and offers at these participating businesses with proof of SBMA admission or advanced reservation. Offers good on 8/15 only.
See Local Business Special Offers
Be the first to visit as a Member!
Purchase Admission
---
Our heartfelt thanks to art handling specialists from Wolf Magritte, Getty conservator Erik Risser, and the SBMA facilities team for their masterful installation of the paintings and sculptures in Ludington Court.