Contribute online!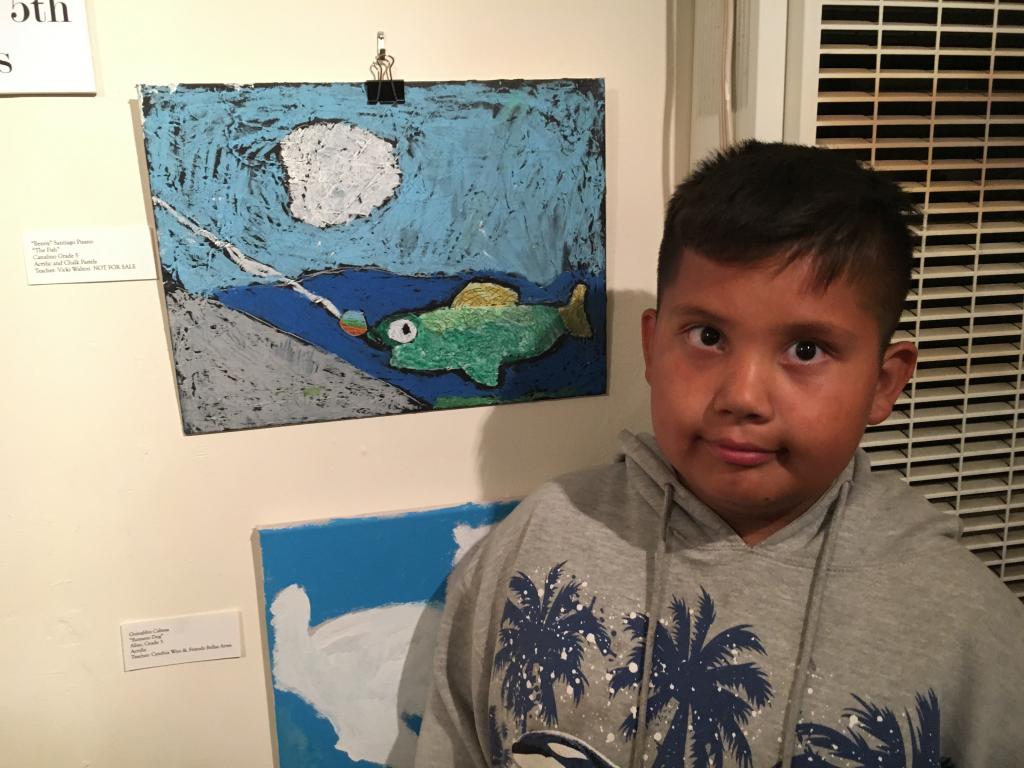 Through educational programs like ArtReach, SBMA provides arts curriculum to local students in schools with limited resources for the arts. Because of you, students like Benny, a 5th-grader from Canalino Elementary School, participate in this classroom program that builds direct connections between works of art in the Museum, classroom curriculum, and students' own experiences and backgrounds.
This past spring, Teaching Artist Jason Summers engaged ArtReach students in a discussion about Marc Chagall's life and art. Jason told them how Chagall came to the U.S. from France, lonely and insecure; about how Chagall used his emotions and his imagination in his painting. Students responded by sharing their own dreams, childhood memories, and ideas from their imaginations.
Benny was a shy boy who struggled with academics and had difficulty interacting with his classmates, according to his teacher Ms. Walton. Through Jason's ArtReach lessons, Benny created "The Fish" from a happy memory of a fishing trip with his father. Ms. Walton submitted the painting in a local art contest and it won an award. She said this moment of success was a turning point for Benny in his classroom performance!
Thanks to you, the Museum makes quality arts education accessible to every student in Santa Barbara County.
There has never been a better time to support the Santa Barbara Museum of Art. That's because Museum Trustee Elaine Gray and her husband Mike have pledged to match any new, increased, or new monthly donations, dollar for dollar, up to a total of $10,000.
Additionally, our new monthly giving program provides a convenient way to support the Museum. Become an SBMA Art Advocate and join a special group of dedicated donors who give on a monthly basis. Sign up before December 31 for your gift to qualify for the $10,000 match!
Your support helps sustain the arts at SBMA year-round. You are the foundation of all the great art and programming the Museum brings to the Santa Barbara community. Please make a gift to our Annual Fund to ensure SBMA can continue to be a vibrant center for the arts in our community.
Sincerely,
Larry J. Feinberg
Robert and Mercedes Eichholz Director
P.S. Remember, make a new, increased gift, or monthly commitment before December 31 to double your impact. The first $10,000 raised will be matched, so give now to ensure your gift is doubled.