SBMA's Travel Program began in 1972 and is a benefit of membership. While these uncertain times have created unprecedented challenges for the travel industry, we hope you find comfort in the following "armchair travels".

---
Update, 9/23/2020

SBMA's popular Art Matters returns to SBMA via Zoom and tickets are now available! The series begins on Thursday, October 1 at 3 pm with a lecture on Casta Paintings: Picturing Racial Difference in Colonial Mexico with Elena Fitzpatrick Sifford via Zoom (free). 
---
Update, 9/23/2020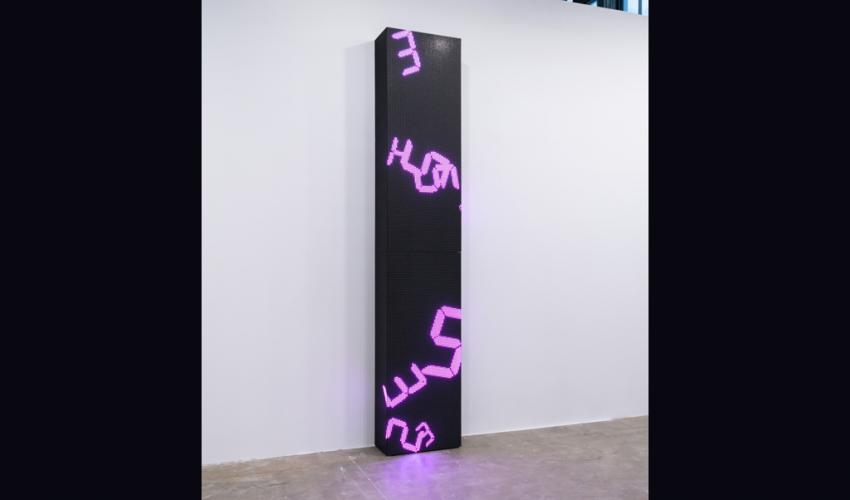 Image: Tatsuo Miyajima. Time Waterfall-panel #12, 2018. Computer graphics, LED display. © Tatsuo Miyajima; Courtesy Lisson Gallery. 
Virtual idea of the day:  Engage in Mindful Looking of Tatsuo Miyajima's Time Waterfall, one of SBMA's recent acquisitions to the permanent collection.
---
Update, 9/22/2020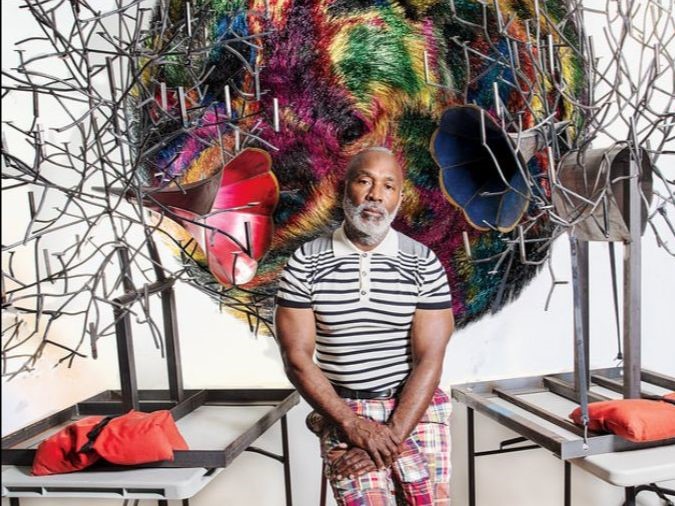 Nick Cave, photographed in his Chicago studio on June 6, 2019. Renée Cox 
UPCOMING VIRTUAL LIVE TALKS 
Join artist Nick Cave for a conversation on Thursday, September 24th (free) 
Join SBMA and Edgar Arceneaux for a conversation on Thursday, September 24th (free)
Take a virtual trip to PHILADELPHIA for a virtual tour of the BARNES COLLECTION with Smithsonian Associates on Thursday, September 24th ($15) 
Take a virtual trip to SIENA, ITALY with Rocky Ruggiero on Friday, September 25th (free)
Join SBMA and Kim Beil, an author and professor, on Monday, September 28th (free)
Stay tuned for information on SBMA's own Art Matters series! (Members receive advance notice.) 
---
Update, 9/17/2020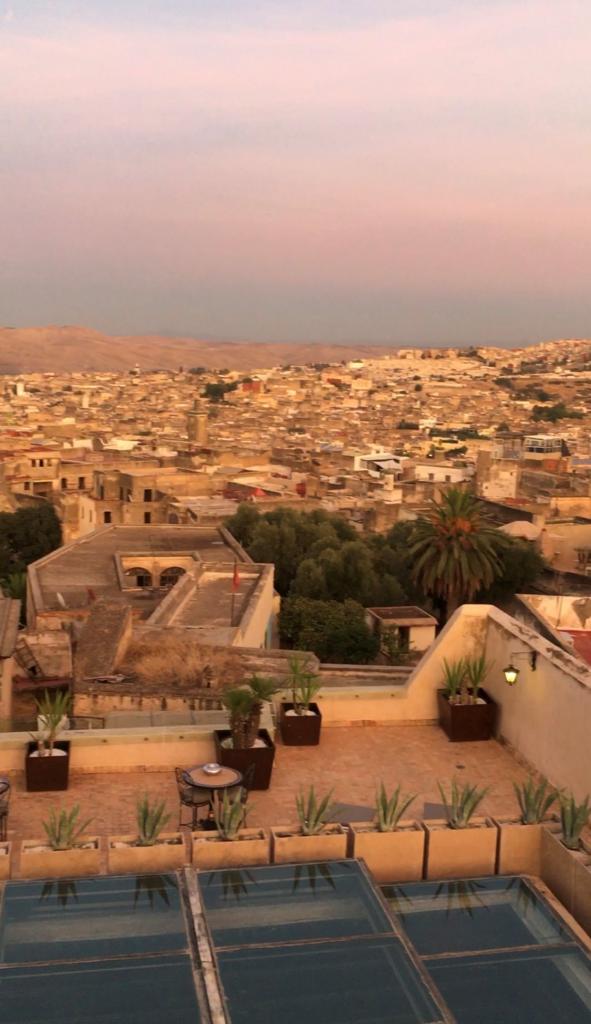 Memories of Morocco by Sarahkate Greeley, SBMA Travel Program Coordinator
The news that Morocco has taken first steps in reopening its borders to travelers has stirred up some beautiful memories for me. I thought I would share a favorite from an SBMA tour to Morocco in 2018, in hopes it might bring back some fond memories of travel for you as well.
After a day of sightseeing in Fez we gathered together on the rooftop of our Riad, which offered sweeping views of the city and mountains beyond. It was almost six o'clock and the sun was turning the dust colored landscape gold. We all fell quiet, taking in our surroundings, when the calls to prayer began. Songs rang out from the minarets throughout the city, sending flocks of birds soaring in patterns across the skyline. The contrast of the blackbirds against their golden backdrop, dancing to the songs calling everyone together below, is forever imprinted in my mind.
If you are interested and want to get on the early interest list for our next tour to Morocco, click here.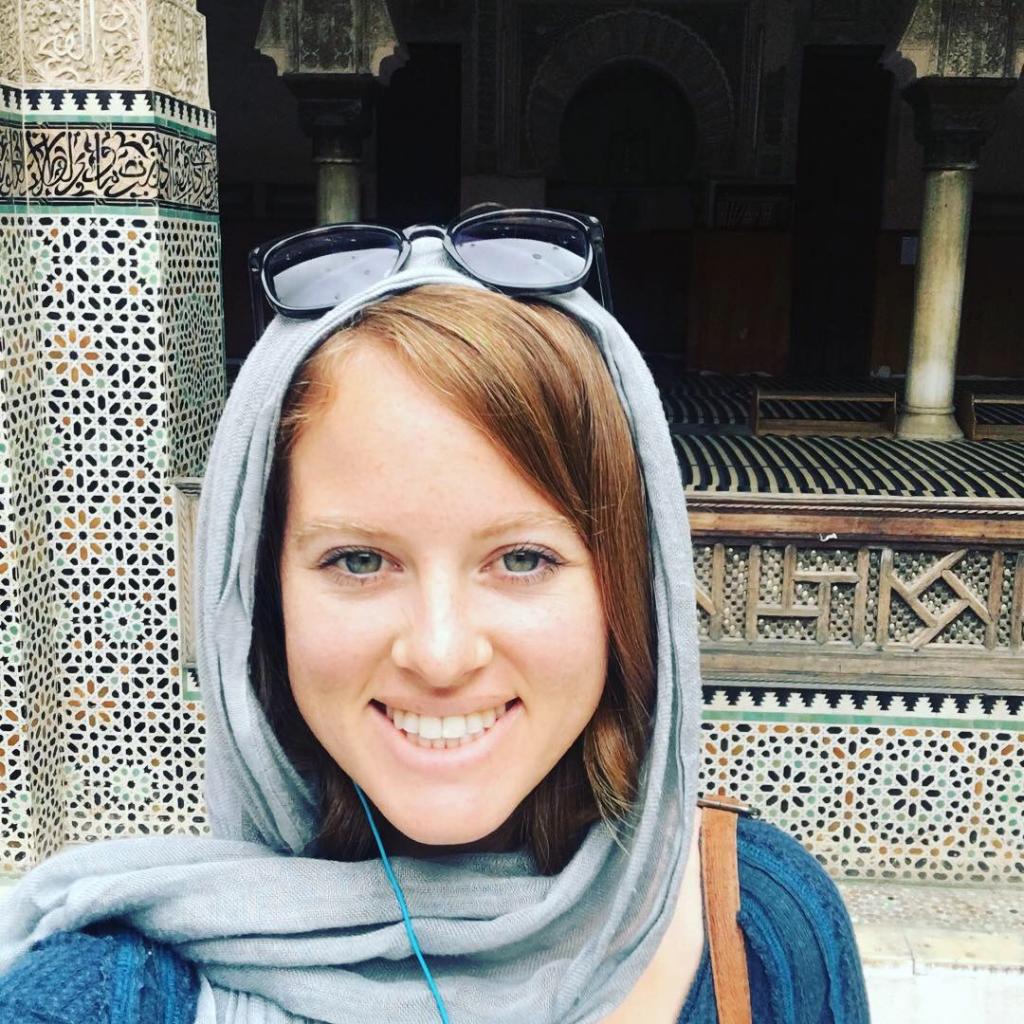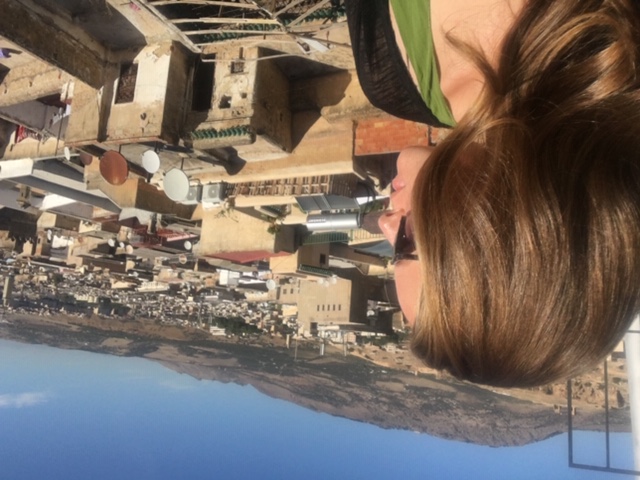 Sarahkate Greeley in Morocco, 2018 
---
Update, 9/12/2020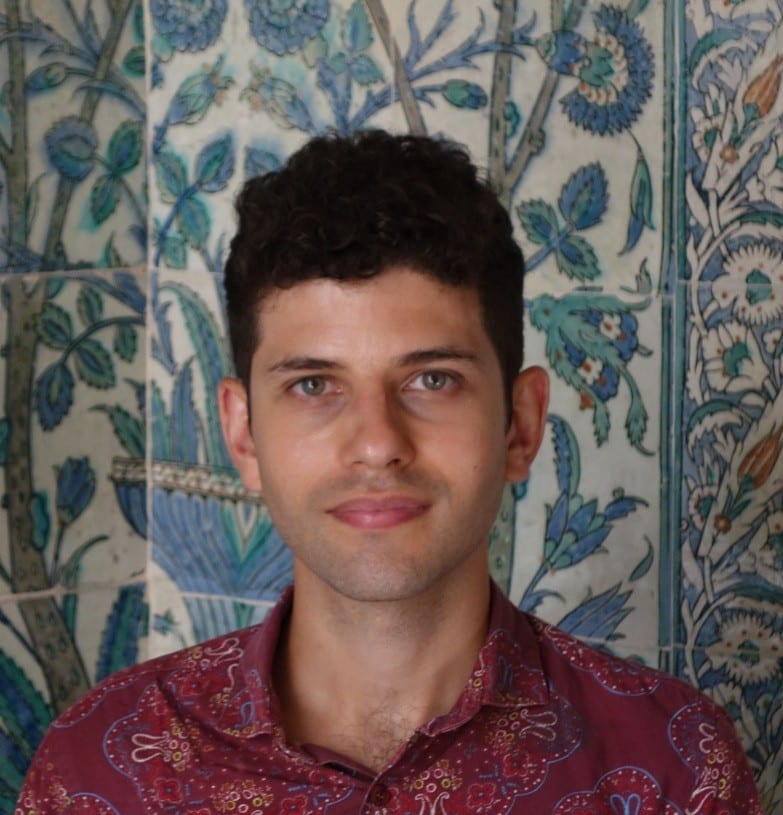 The Smithsonian Associates lectures are highly recommended. Coming up on September 17th, is one called "Architecture of Faith: The History and Diversity of the World's Great Mosques" by Ünver Rüstem, assistant professor of Islamic art and architecture at Johns Hopkins University.
---
Update, 9/7/2020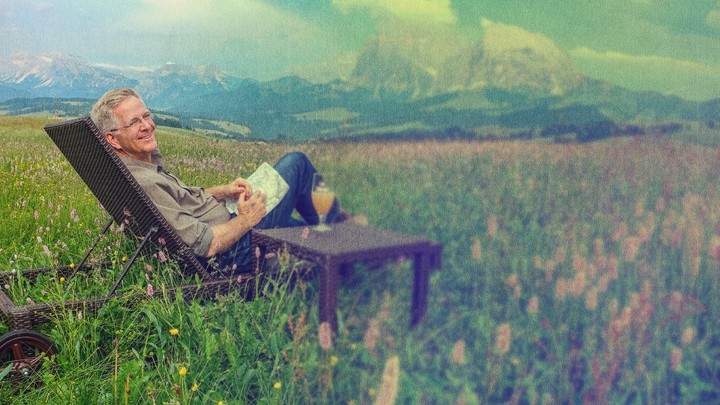 Read Rick Steves in The Atlantic on how traveling isn't just a pastime — it's a mindset.
Above:  Rick Steves taking a break from filming near the Dolomites in Italy
---
Update, 9/3/2020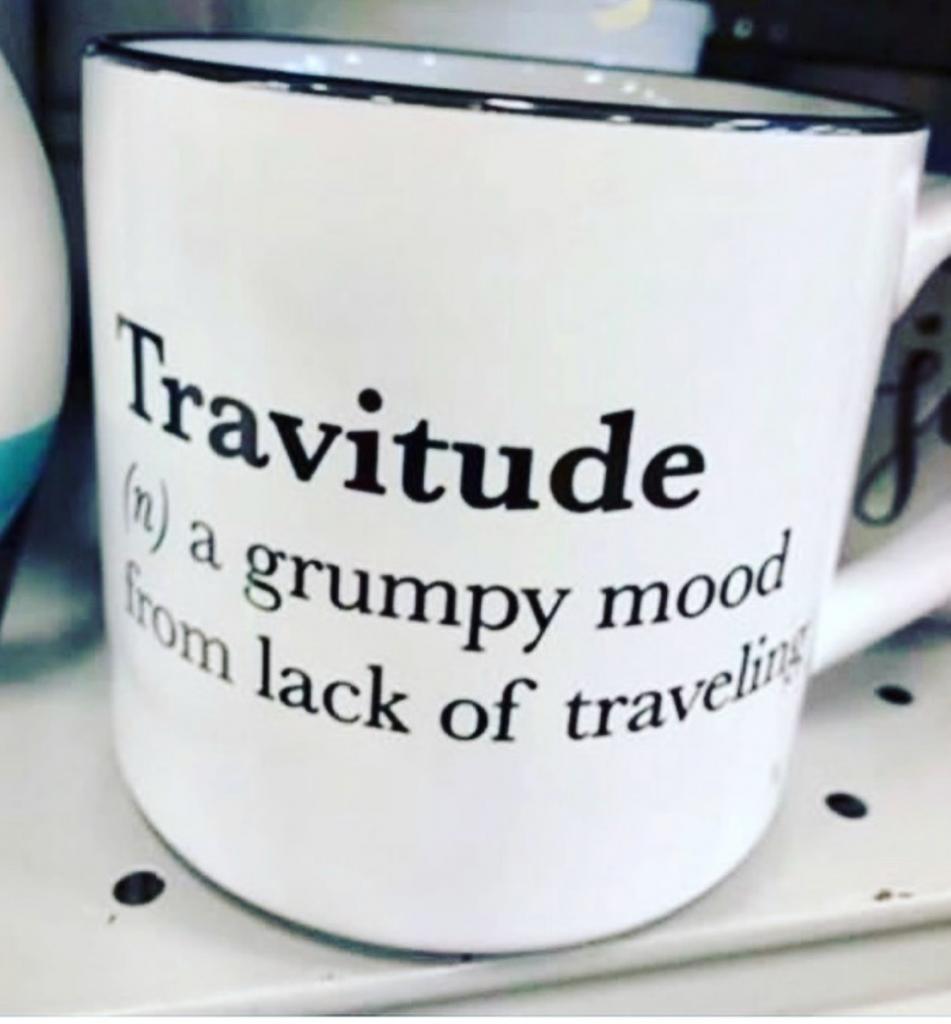 ---
Update, 8/31/2020
A virtual travel experience may be just what you need today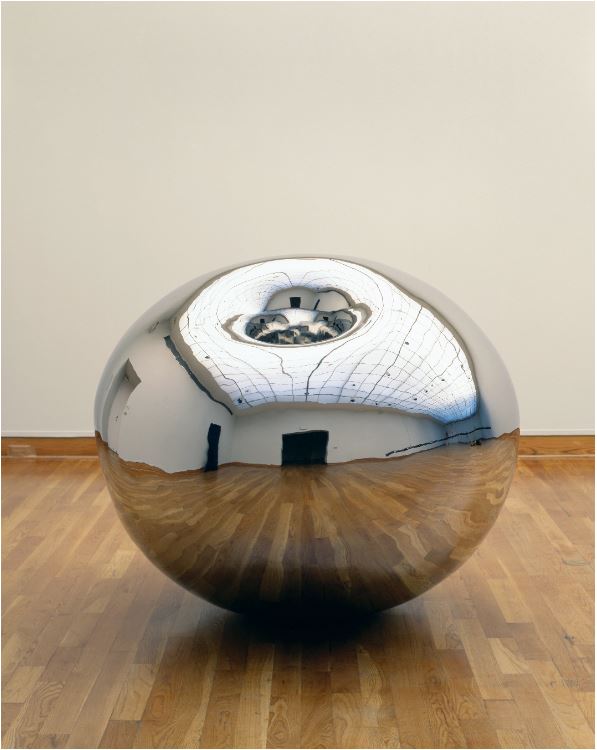 Anish Kapoor, Turning the World Inside Out, 1995. Cast stainless steel, ed. 3/3. SBMA, Museum purchase, 20th Century Art Acquisition Fund and funds provided by Eli and Leatrice Luria and the Luria Foundation, Lillian and Jon B. Lovelace, Smith Richardson and the Grace Jones Richardson Trust, and the SBMA Visionaries. © Anish Kapoor / Artists Rights Society (ARS), New York
Find inspiration through art and artists around the world, from SBMA and back
SBMA's treasure trove of memories, from generations of educational travel, and our lineup of 2021 tours make the following virtual opportunities inspirational for the SBMA Traveler.  Enjoy!
Follow Sculptor Anish Kapoor's career around the globe with Google Earth.
SBMA's own massive, mirror-finished stainless steel sphere by Anish Kapoor, Turning the World Inside Out (1995), above, will be on display in SBMA's new contemporary art gallery in 2021.
Let Artbound guide you on a one-hour tour through Frank Lloyd Wright's houses in L.A.  
For more Frank Lloyd Wright experiences, we are planning future SBMA tours to Taliesin West on a Sedona and Scottsdale tour, the Frank Lloyd Wright Smith House in Michigan, and the Bachman-Wilson House in Arkansas.
"Visit" Ireland's Connemara mountains, through this digital art exhibition. 
SBMA's most recent tour to Ireland was in 2017 and in the words of our travelers: "It was one magical evening after another. Our guide was an Irish encyclopedia with a sparkle in her eye." – Kim and Michael Hayes
If you are interested in traveling to Ireland with us in the future, let us know here!
Whet your appetite for future SBMA trips virtually by exploring the Uffizi in Florence, The Louvre in Paris, and the Vatican Museums in Rome.
Get a taste of SBMA's European plans here.
Of course, our favorite collection to view online is SBMA's and SBMA at Home has countless ideas!
Please send your favorite virtual travels and/or travel books, articles, or movies you recommend to travel@sbma.net and we will feature them here.
---
Update, 8/26/2020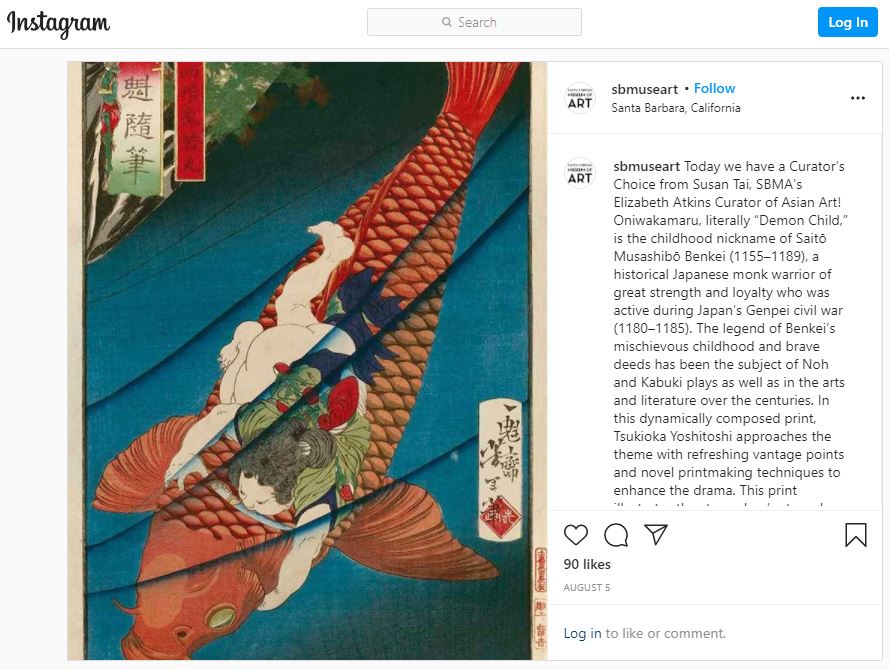 Do you follow SBMA on Instagram? Highly recommended! Over the past few weeks, Curators Susan Tai and Charles Wylie have shared their "Curator's Choice" artworks. Check them out and start to follow us if you don't already! 
---
Update, 8/20/2020
Armchair Travel Quote of the Day: 
"The truest travel books take us out and in at once." - Pico Iyer in the Wall Street Journal 
---
Update, 8/18/2020
UPCOMING:  Online lectures through the Smithsonian on Sept. 2 and a 4-session course starting Sept. 4
These art history lectures put on by Smithsonian Associates are usually fabulous. There is a cost but they are worth it.  Here are the next two: 
Art + History: Guernica by Pablo Picasso, Wednesday, September 2, 2020 - 12 to 1 p.m. ET
Great art is timeless. Paul Glenshaw examines the iconic painting Guernica by Pablo Picasso, exploring its historical context, delving into the era of its artist, the present he inhabited, and what shaped his vision and creations. 
Vermeer: In Praise of the Ordinary, 4-Session Daytime Course, Friday, September 4 to 25, 2020 - 10 a.m. to 11:15 a.m. ET
Explore the legacy of painter Johannes Vermeer, a master of light and color whose paintings captured the beauty and meaning of everyday life, with art historian Aneta Georgievska-Shine. 
---
Update, 8/14/2020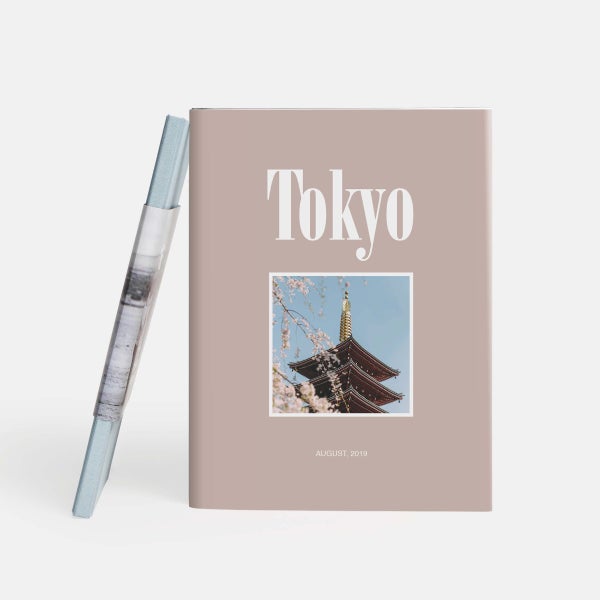 Photo book from Artifact Uprising
Armchair Travel Idea of the Day:
Make a professional-looking book of your photos from past travels!
A wonderful idea for this time is to make photo books of your past trips. I just made one on Chatbooks. It was easy and came out looking gorgeous! We hear good things about Artifact Uprising and Mixbook. Other classic ones are Shutterfly and Snapfish. Here are tips from Condé Nast Traveler on how to organize photos from all your favorite trips.
---
Update, 8/12/2020

The Travel & Special Programs Department at SBMA is in charge of the chamber music program at the Museum and the nourishment one receives from the performing arts is relevant to armchair travels—thus updates on this page having to do with music.
The Mandelring Quartet, who performed at SBMA in 2012, 2017, and 2019, just performed its first post-covid concert the Ludwigsburg Castle Festival in Germany. The all-Shostakovich concert was "corona-compatible". The live-streamed recording can be heard here.
The Catalyst Quartet, who have also performed numerous times at SBMA (in 2013, 2014, twice in 2015, 2017, and 2018) were part of an article in last week's New York Times called "5 Minutes That Will Make You Love 21st-Century Composers". The Catalyst Quartet's Uncovered project features the music of classical composers whose works have been largely overlooked due to their race or gender. The first of their recordings in this series: music of Samuel Coleridge-Taylor with pianist Stewart Goodyear and clarinetist Anthony McGill, to be released this fall. 
---
Update, 8/11/2020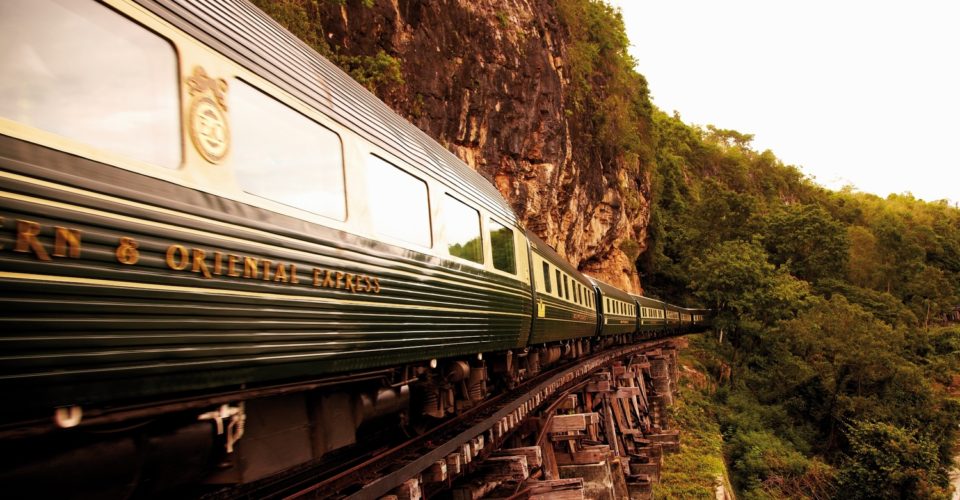 If you do travel…
You may have heard that the State Department lifted its global advisory against international travel (to most countries) after nearly five months, but the CDC's no-sail advisory remains in effect, several countries continue to deny entry to Americans, and many people are not traveling as a personal choice. However, if you do travel, take a look at this article from National Geographic "If you must travel now, how to stay safe" and this Conde Nast Traveler article on the pros and cons of air travel, train travel, and car travel, as well as other tips on traveling safely. And as always, if you are going abroad, enroll in the Smart Traveler Enrollment Program (STEP) to receive alerts from U.S. officials about the COVID-19 situation and other emergencies while abroad. (If you're on an SBMA tour, we do this for you.) 
---
Update, 8/10/2020
​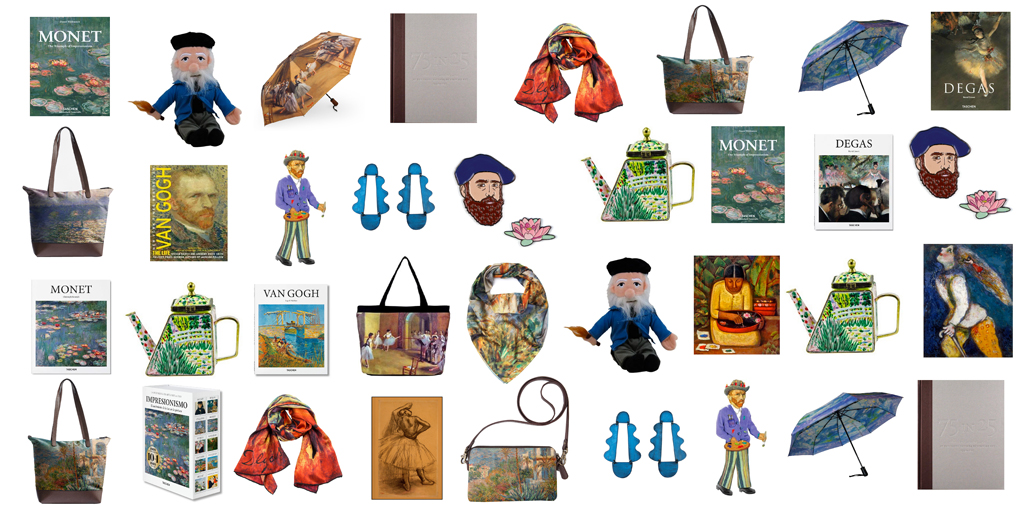 ​SBMA's Travel Program is a benefit of Membership. In addition, Members at the $500 and above receive advanced info about our SBMA-exclusive/customized tours. 
There are many other benefits to SBMA Membership, including 10% off in the Store!
Have you visited the new online Museum Store yet?

If you are an SBMA Member, remember to use your 10% SBMA Member Discount by entering the code SBMAMember at checkout.
All proceeds support the Santa Barbara Museum of Art's exhibitions and extensive education programs.
---
Update, 8/7/2020
Take some time to get creative this weekend with SBMA! We continue to offer more opportunities to engage in creative art-making so you can experience the Museum's permanent collection from home. We are also excited for the return of monthly virtual Studio Sundays, starting on August 9.

We hope you will join us for the next virtual Parallel Stories talk on August 23 with Pulitzer Prize-winning author Hisham Matar. All Members who attend will be entered into a raffle to receive a copy of Matar's book A Month in Siena.

If you didn't have the chance to join us for the last Parallel Stories featuring author Sameer Pandya, check out the recording of the virtual event.
See all SBMA at Home opportunities.
---
Update, 8/3/2020
Armchair Travel Quote of the Day: 
"Blessed are the curious for they shall have adventures."
– Lovelle Drachman
---
Update, 7/30/2020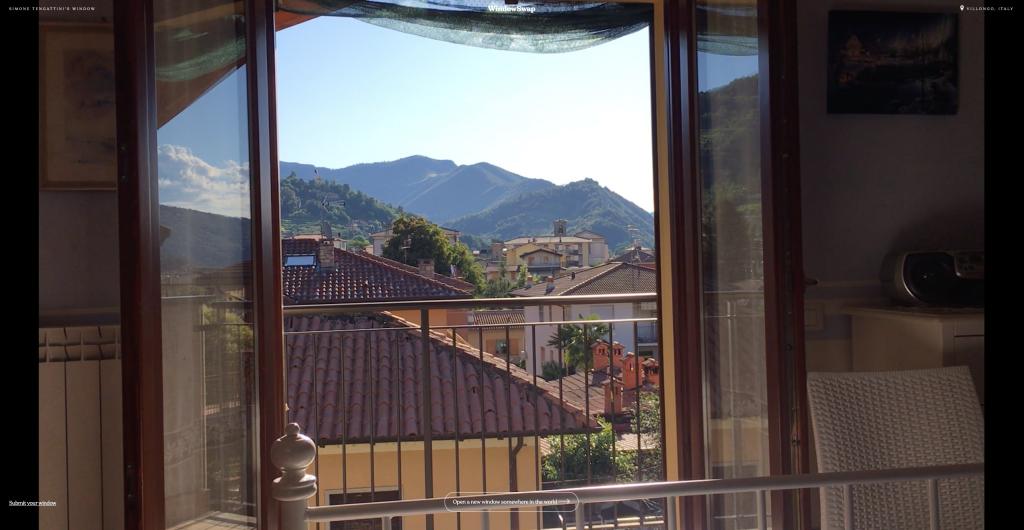 Tired of looking out your window at the same view of the outside world? Go to Window-Swap.com and enjoy the window views from homes around the world. Oddly therapeutic, it can remind us that the pandemic and lockdowns are a shared global experience. 
---
Update, 7/26/2020
This webinar by USI Travel Insurance Services contains all you ever wanted to know about travel insurance and Covid-19.
There are many options for travel insurance. SBMA Travel shares info on USI Travel Insurance Services with our clients as on option. They were recently recognized as one of Forbes Advisor's Best Travel Insurance Companies for 2020.  
---
Update, 7/22/2020
Armchair Travel Book Suggestion from an SBMA Traveler 
From SBMA Traveler, Cinda Erdman, who traveled with SBMA to Vienna, Prague, and Budapest in 2019:
This week, I read a marvelous book about Prague!!  THE LAST PALACE by Norman Eisen which is a true story all about Prague and the Ambassadors and the Americans.  We did not visit Otto's palace so now I want to!!  Hope things improve and we can go on a Museum trip!!!
---
In the words of SBMA Travelers: 
I have enjoyed the Travel Dept's occasional emails, since "armchair traveling" is the only traveling I am doing these days!  I can't believe how many years have passed since Cuba.  I recently read an "undiscovered" short story by Hemingway in the New Yorker which was set in Cuba (it was one of his fishing stories) and I was so thrilled to be able to say to myself (something one does in lockdown) "I know that place - I've been there!" I can still smell the cigar smoke wafting through the streets of old Havana.  - Barbara Marré
I like to think you and your staff are happily cooking up new plans for when we can all travel again. It is a wonderful day dream now. - Melissa Dvorak
Your newsy email was the perfect pepper-upper for yet another day longing to be "out of Dodge!"   SO many of us are missing the wonderful SBMA (in person!) Travel experience. Thanks to you and Sarahkate for keeping our spirits up....and appetite for Travel whetted. The (Bhutan) article from Global Traveler set off a flurry of memories of beautiful sites and experiences.  Loved your list of Favorite Places..........you are no doubt familiar with my borrowed (from Susan Sontag) travel "motto" "I haven't been everywhere, but it's on my List" - Judy Weirick​
My iPhone screen this week randomly, unexpectedly, inexplicably presented me with Google photos of where I was a year ago - in Greece with Nigel and my museum friends - and it made me so happy! - Sharon Felder
---
Update, 7/16/2020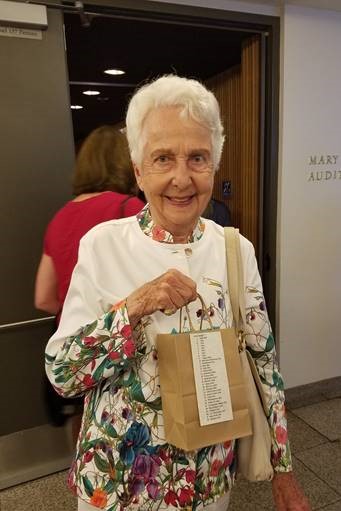 Above: Lorna Hedges, who has been on 36 tours with the SBMA—the most tours of any SBMA traveler!  When the Travel Program started a Loyalty List in 2017, we lovingly named the highest level "the Lorna Level."  Here she is accepting her loyalty gift and on the bag is her long list of SBMA tours.
Lorna Hedges has been involved with SBMA for 50 years as volunteer, docent, and trustee for 21 of those years. Currently she is involved with Benefactor's Circle activities, Photo Futures, and Friends of Asian Art. She is a patron of the Music Academy of the West and is involved with the Scholarship Foundation of Santa Barbara. 
Lorna is a world traveler and SBMA feels very lucky to say that she has chosen to travel with us 36 times, with two future trips already reserved for 2021. After their first trip with SBMA to India in 1987, she and her late husband Walt fell in love with the country and the SBMA guide, and returned to South India the following year. They spent a few days in Nepal and Lorna tells of waking up early and walking to a lookout point to watch the brilliant orange sun rising over Kathmandu, a magical travel memory that has never left her. When asked about her trip to Morocco in 2007, she recalls riding a pony across the sand dunes in the desert. After a 22-day trip to Cambodia, Vietnam, Laos, and Myanmar in 2003, she wrote "I loved that trip and feel fortunate to have been able to go." Two of her favorite trips with Walt were Tuscany in 1994 and Sicily and Malta in 1995, from which she has fond memories of their leader Susie Orso.
Lorna is focusing on traveling closer to home these days. In 2017 after an overnight trip to Los Angeles, she described the group as "fabulously congenial!", the accommodations as "dreamy!", and the food as "delectable!" She continued, "as we were toasting him with champagne, Nigel intellectually summed up all we had seen and done with enriching perspective. Such riches!!" After a 2017 tour in New York City, she exclaimed "Donnovan (a fellow traveler) said it best—Delicious!! The trip was truly delicious in every way and every sense of the word. I loved every minute of it and am so happy and feel privileged as well to have been a part of it."
Lorna says, "sometimes people say to me 'the tours through the Museum are expensive' I say, 'they are worth every penny; you get your investment back in spades.' The Museum offers experiences that other travel entities don't have access to. They always do a wonderful job in planning and executing the trips. SBMA has been my very favorite travel agent since 1987." 
Thank you Lorna, for your trust in us, your support of SBMA, and for the large part you play in our groups being so "fabulously congenial!" 
---
Update, 7/15/2020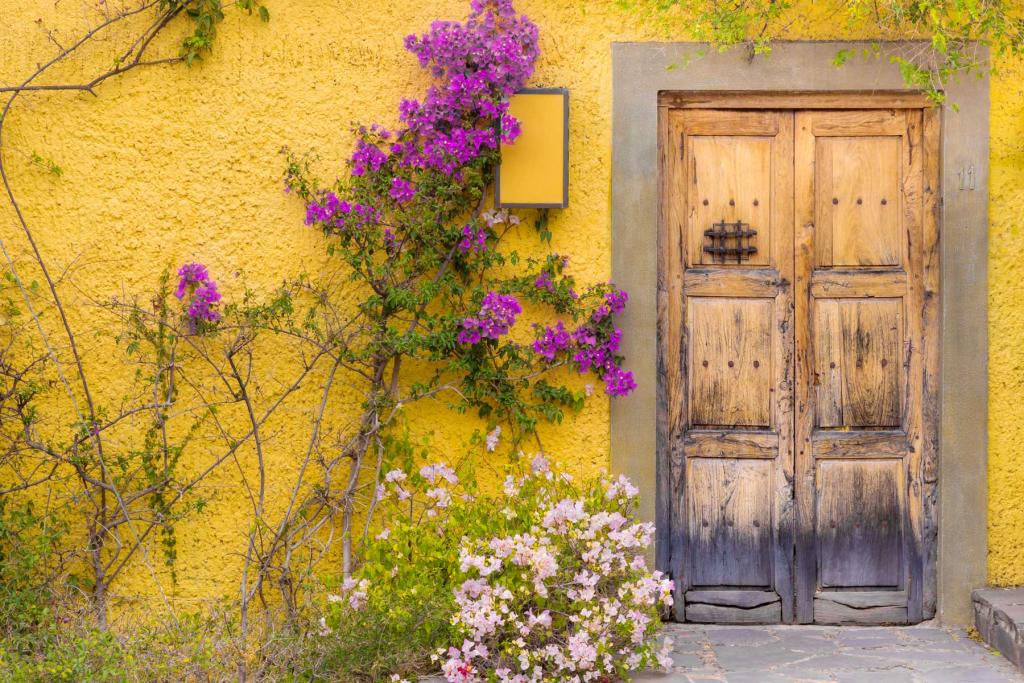 Travel + Leisure announced their best cities in the world list for 2020 and Oaxaca, Mexico is #1!  San Miguel de Allende, Mexico is #2.
---
Update, 7/13/2020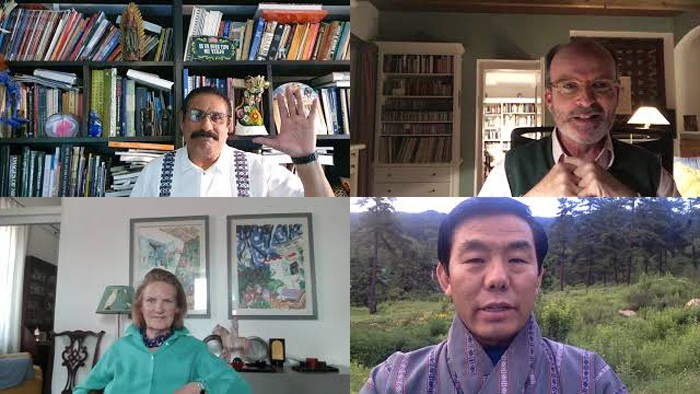 On an SBMA Travel tour, a team of people work together to make the experience the best it can be. In-country guides, scholars, and tour managers often leave a lasting imprint on our travelers' hearts.

The travel industry employs one in ten workers worldwide. They educate us, they become friends, and they can feel like our family abroad. It seems to happen quickly on a tour that one connects with these individuals on a deeply personal level.

Please allow us to introduce you to a few special guides who are part of the SBMA Travel community abroad. 
SBMA's Travel Program began in 1972 and is a benefit of membership. While these uncertain times have created unprecedented challenges in the travel industry, we hope you find comfort in hearing from our tour leaders and in these ideas for "virtual travels".
TRAVELER COMMENTS:
Thank you so much for the wonderful messages from the travel guides!  Lovely people, lovely places, wonderful sentiments, and terrific feelings, especially now!  SBMA is such a wonderful place for our community. You all do such a fantastic job in all areas!  And I so appreciate all your efforts, especially during these trying times.  - Julia Stephen 
What a delight to see Anil's visage again!  That brought back many fond memories I've not thought of lately and provided a pleasant respite in the midst of the coronavirus disruption, which I enjoyed. - Gregg Hackethal
Thank you for the messages from SBMA tour guides! I fondly remember Susie Orso for her wonderful sense of humor and intrepid spirit of adventure when she accompanied the knowledgeable and insightful Nigel McGilchrist as his tour manager on an unforgettable tour of Sicily. In addition to visiting all the major antiquities, cathedrals, historical sites, and museums; we were treated to delightful visits to agricultural sites and cooking schools where we had the opportunity to see wonderful gardens and have delicious meals prepared especially for us. All this and spectacular accommodations and great food in authentically local restaurants. Thank you Susie and Nigel and SBMA for a wonderful Sicilian journey. - Mark A Summa
What a lovely idea. I so enjoyed hearing from the guides I have traveled with.  I would never have recognized Susie Orso and she was one of Walt's and my favorite guides.  She was our guide when we went to Tuscany in 1994 and then when we traveled to Sicily and Rome in 1995—both just wonderful trips and of which I have fond memories.  My travels with Nigel, Florencio and Karma were after Walt died. I am sure that these messages are being enjoyed by the many people who have traveled with SBMA. - Lorna Hedges
I much enjoyed hearing Nigel's familiar voice. So true, travel is SO important to how we view the world. - John Gardner
---
Update, 7/10/2020
Armchair Travel Idea of the Day:
Travel News of the Day: 
---
Update, 7/9/2020

Take a Virtual Trip to the Oregon Shakespeare Festival!
Since 2015, SBMA Travel has run an annual trip to the Oregon Shakespeare Festival (OSF) in Ashland, Oregon. Participants see four plays, engage in pre- and post-play discussions, meet actors, and have the option of seeing additional plays during leisure time.
This year's tour, and OSF's fall performances, were unfortunately canceled due to the impact of the pandemic.  
Currently, two plays can be "rented" for $15 each and watched online. They are The Copper Children (available until July 15) and A Midsummer Night's Dream (available until July 22.) The performances were recorded in February 2020, after the season had opened, but before everything was shut down in March. The recordings were initially done for archival purposes and not for public viewing, so it doesn't have the same quality as other stage shows being streamed (like Hamilton) that were meant to be viewed electronically. Subtitles have been added. 
We hope you enjoy joining us on this "virtual" trip to Ashland!
---
Update, 7/7/2020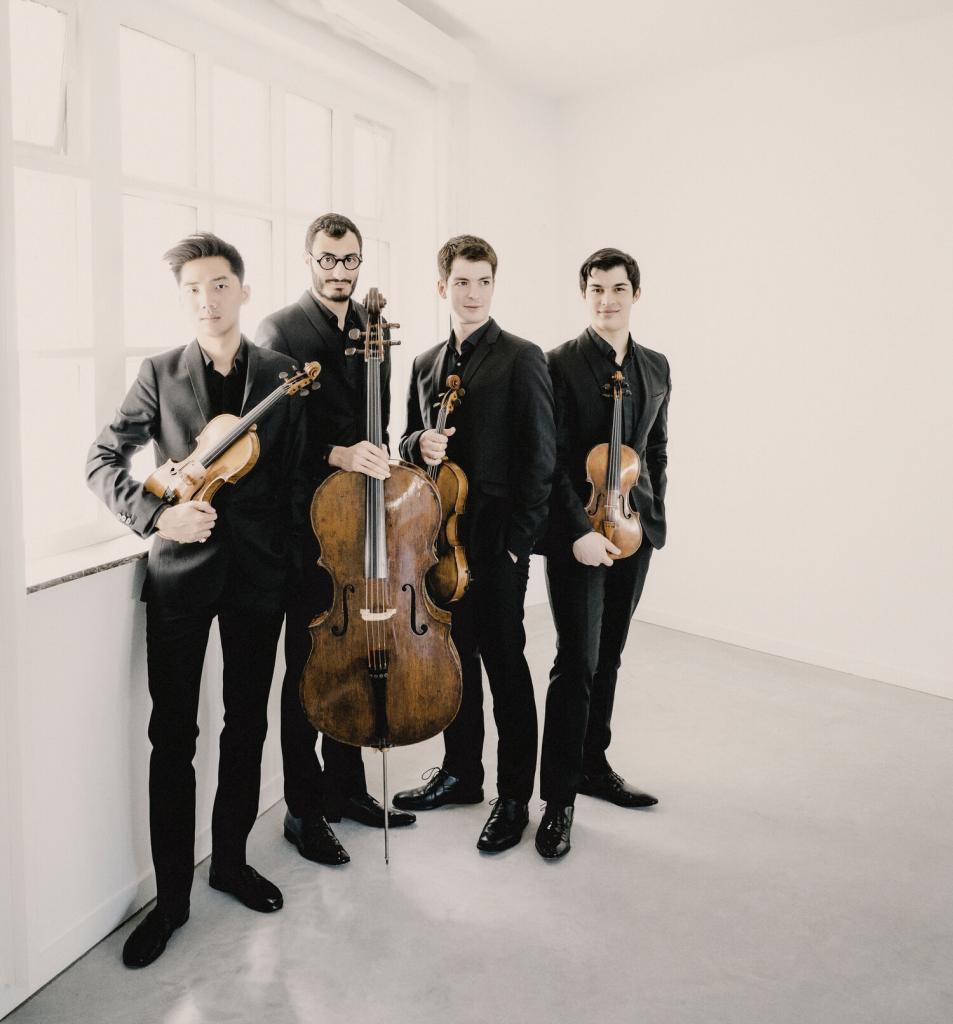 The Arod Quartet
A lot of people don't realize that SBMA's Travel & Special Programs Department puts on the chamber music concerts in the Museum's auditorium. 
In March, the Arod Quartet was scheduled to perform but the concert had to be canceled due to Covid-19. One of the quartet members, Samy Rachid, created this video message to the ticket holders and the quartet shared this recording from a performance they gave last fall of Haydn's "Sunrise" Quartet for France Musique.
The Szymanowski Quartet is another favorite ensemble who has performed numerous times at SBMA (2006, 2008, twice in 2010, 2012, 2014, and 2016). They sent us a link of them performing the first movement from Mieczysław Weinberg's Piano Quintet in F Minor, Op. 18 with Michail Lifits. This "Elbphilharmonie Session" was recorded in the Laeiszhalle Recital Hall in Hamburg a few months ago. The Szymanowski Quartet wants to let us know they "still have so many positive and vivid memories of our performances at Santa Barbara Museum." 
Nothing compares to seeing live music and our hearts, support, and wishes go out to the musicians whose livelihood depends on performing music for live audiences. We look forward to having you back at SBMA as soon as it is safe to do so!
---
Update, 7/3/2020
Armchair Travel Idea of the Day:
---
Update, 6/26/2020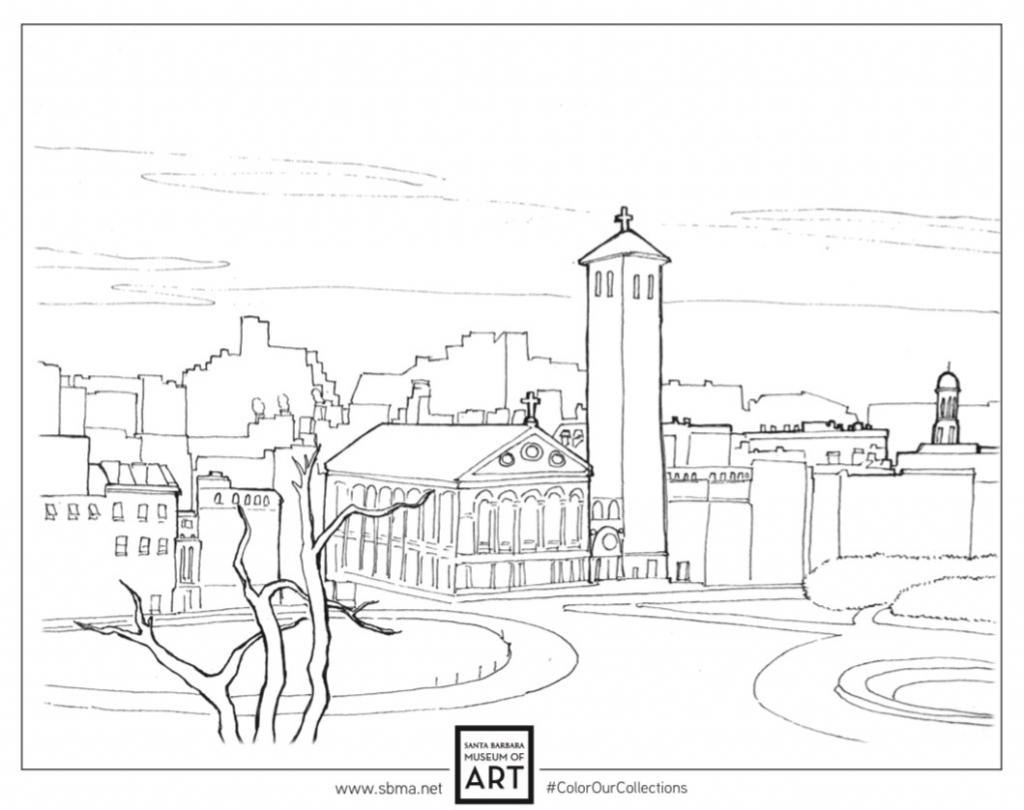 Additions to "SBMA Travel Guide to Virtual Adventures": 
Best travel documentaries, Conde Nast Traveler 
"Cocktails with a Curator" at The Frick, shared by SBMA Travelers Linda and Peter Beuret
Watch SBMA's Curator of Contemporary Art talk about "November, Washington Square" (1959) by Edward Hopper and many other videos on SBMA's YouTube channel, then engage in some "SBMA At Home" by coloring your own "November, Washington Square". 
---
Update, 6/25/2020
SBMA Travel Guide to Virtual Adventures
Left Image: Royal tombs decorated with Persian-style tilework in the Qutb Shahi funerary complex, Golconda, Deccan, India (Photo: Keelan Overton, www.keelanoverton.com)
Right Image: Tomb of Ahmad II Bahmani, Bidar, Deccan, India (Photo: Keelan Overton, www.keelanoverton.com)
Every Journey Starts with a Plan
According to travel personality Samantha Brown, the act of PLANNING travel puts us in the same psychological, happy-go-lucky place as BEING in a destination. Right now, 44% of people are using their extra time to plan a future trip. Are you? See what travels we have been planning for you.

The Right Book can Make all the Difference
A good read can change the way you experience a new destination. We have some great new recommendations for you. Two recent book suggestions from an SBMA Traveler you might enjoy are See You in the Piazza and Always Italy, both by Frances Mayes. For a more academic read, Dr. Keelan Overton, a favorite SBMA Study Leader and Lecturer, recently published Iran and the Deccan: Persianate Art, Culture and Talent in Circulation, 1400-1700, a collection of 14 essays by 18 scholars addressing the movement of people, works of art, and cultural norms between Iran and the Deccan region of southern India. The 140 photos alone will transport and transfix you.

For Those of you in Need of a Guided Adventure Now
Sometimes waiting is the hardest part. If you are in desperate need of some adventure and can't wait until all this planning comes to fruition, these are a few of our favorite guided virtual travel experiences you can watch right now.
Scroll to the first post at the very bottom for even more virtual travel ideas! 
---
Update, 6/23/2020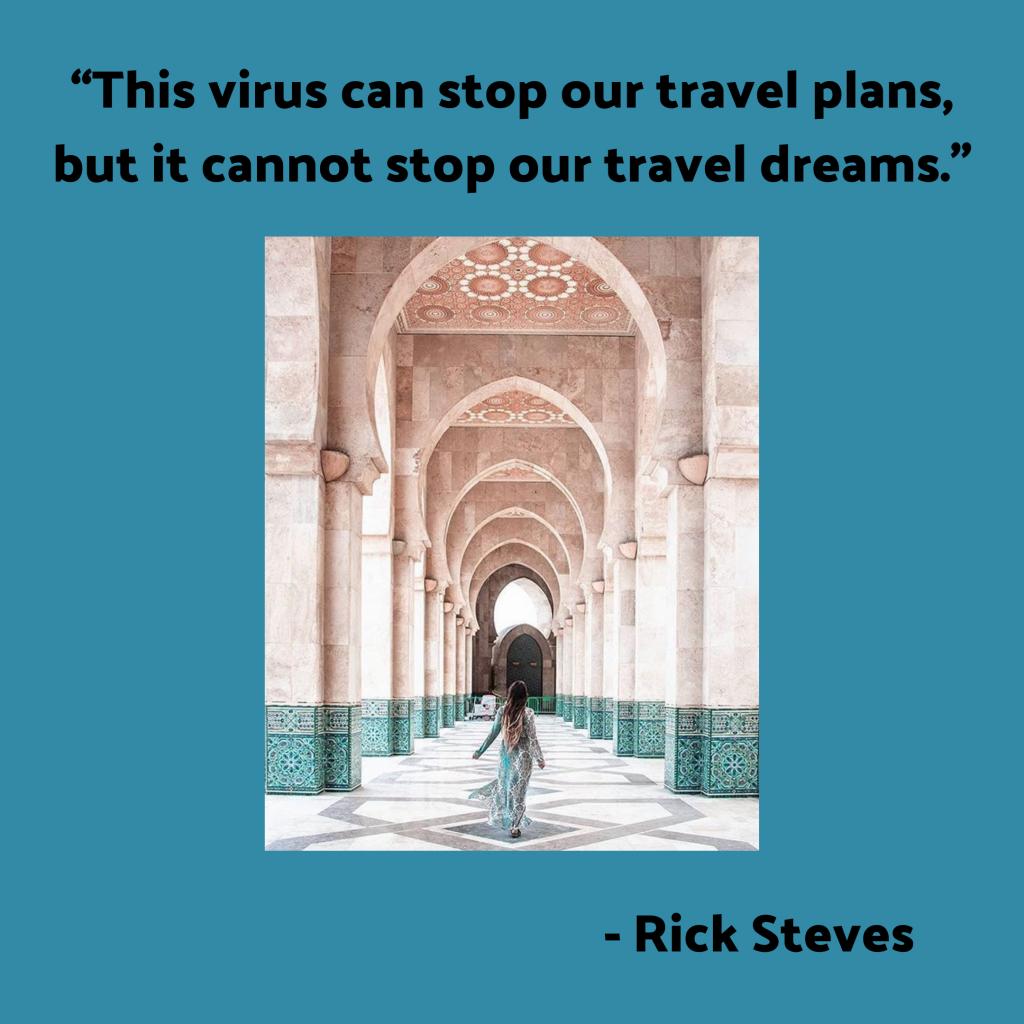 According to travel personality Samantha Brown, the act of PLANNING travel puts us in the same psychological, happy-go-lucky place as BEING in a destination.
44% of people are using their time in quarantine to plan a future trip.
Are you?
Email us your response at  travel@sbma.net
---
Update, 6/15/2020
"This virus can stop our travel plans, but it cannot stop our travel dreams." - Rick Steves
As I think about what Rick Steves said, I think about how happy I am when I am making travel plans, or doing travel research.  Since I was an 8-year-old planning my birthday party down to the very last detail, I have always enjoyed making plans, even if they never come to fruition. I have countless files on places I may go one day, or may never get to - it almost doesn't matter. 
This has worked beautifully with my job as SBMA's Travel Manager, since there are many trips that I plan and do not go on.  I relish in thinking about the places our Members would want to visit and in planning the itineraries, from the museums that should be included to the best moments for fitting in restroom breaks. 
And so I continue to dream of travel.  I dream about the moment when SBMA can offer tours again and I dream about the details. 
By Lisa Benshea, SBMA Travel Manager
---
Update, 5/29/2020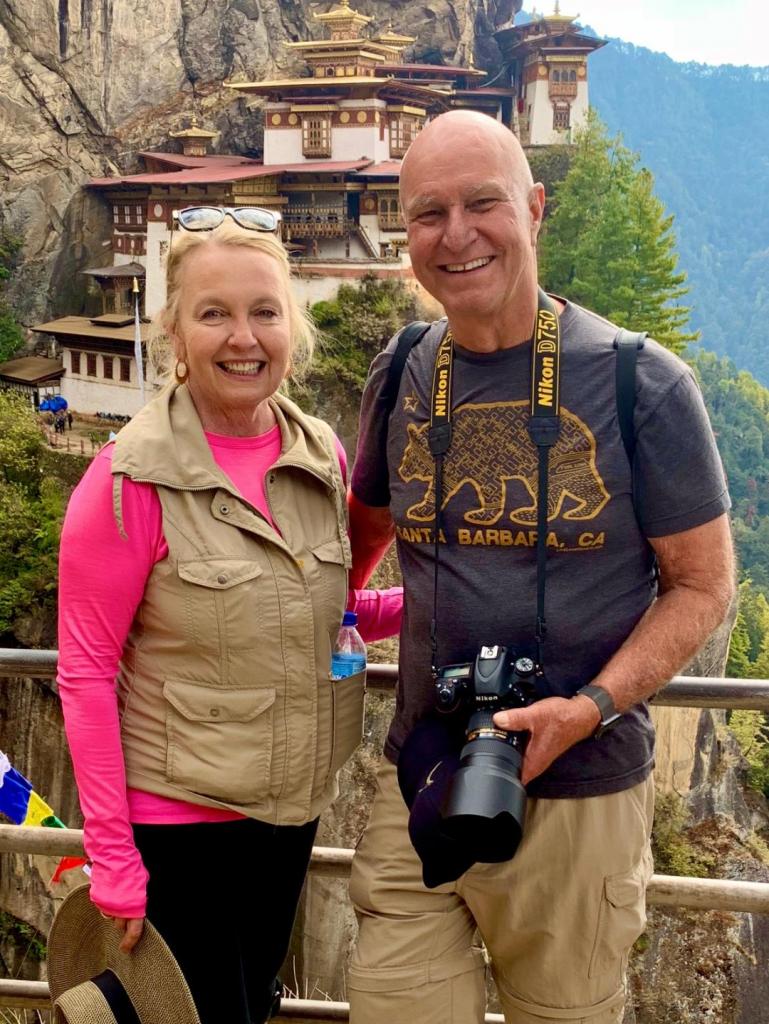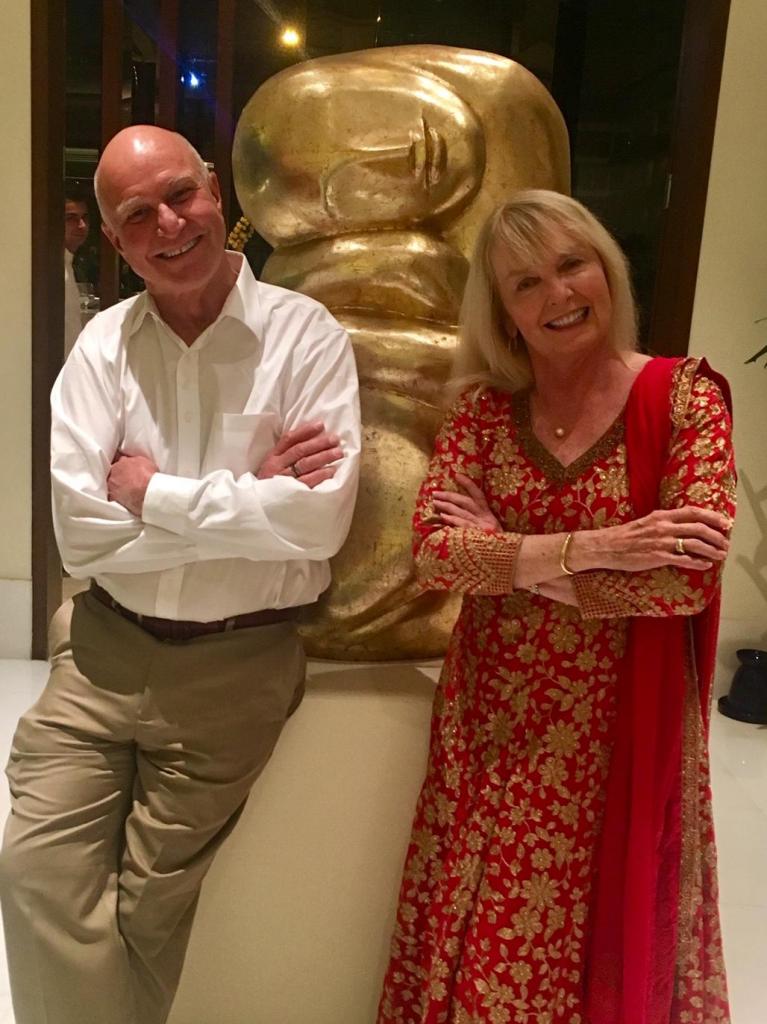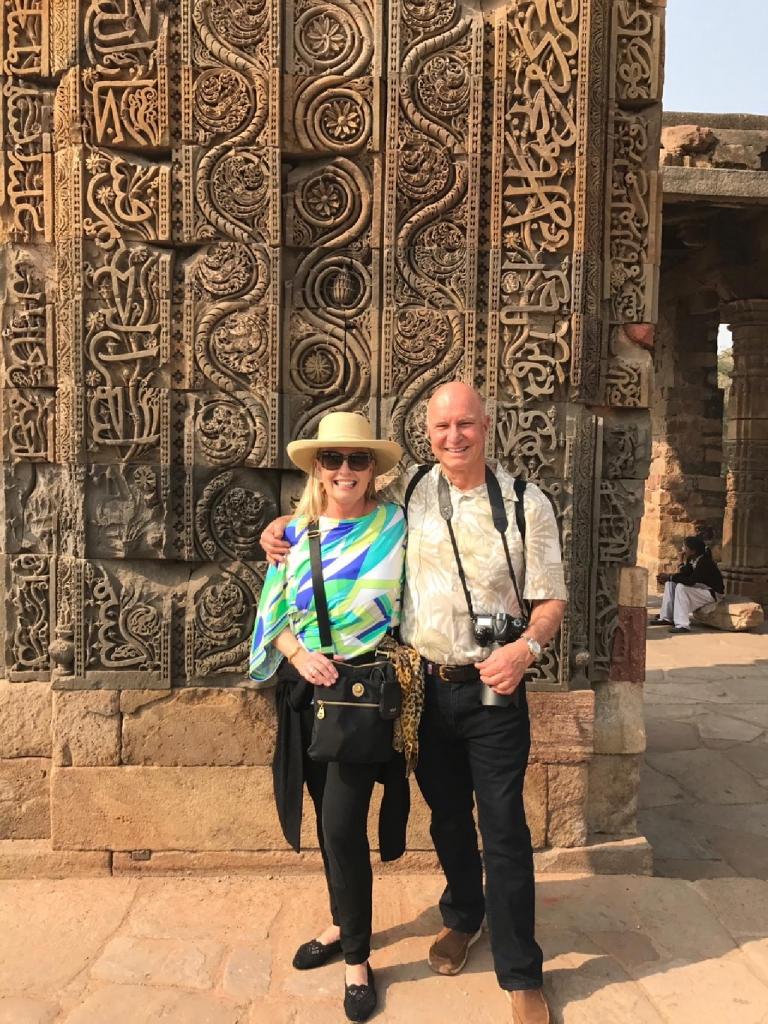 SBMA Travelers Jill Nida and Gary Simpson, who have taken three trips with SBMA Travel, were featured in our SBMA Members' e-newsletter. Both Santa Barbara natives, Gary owns Ace Santa Barbara Home Improvement Center and Jill is an avid community volunteer. Both are world travelers. Hear what they have to say! 

What inspires you?
"Traveling to experience and appreciate other places and cultures is totally inspirational for both Jill and me.  Aside from all the interesting sights, smells, flavors and cultures, we crave traveling for the people experiences we bring home in our memories. It's amazing how many wonderful local people one meets along the way. We stay in contact with at least three guides we had on trips over the last few years."

What is your connection to the Museum?
"It is thanks to SBMA that we have experienced three wonderful and enlightening trips to India (twice) and lastly Nepal, Tibet and Bhutan, all of which were absolutely fabulous, meticulously carried out by our accompanying SBMA host and expertly guided by the best guides to be had. We loved our first trip to India and when presented with some trip options we 'went for it' and booked two new different ones at the same time because we just couldn't pick which one was the better. So glad we did!"

Do you mind not being able to travel right now?
"We were getting very close to booking a trip we had planned for this fall, but by early March it was obvious that it would have to wait...and we're fine with that."

What are your favorite countries?
"That's a tough question that I'm sure stumps many a traveler. We think India is probably the most culturally diverse and fascinating country we've visited...and we have visited a lot...but Bhutan was so peaceful, beautiful and with some of the most sincere and kind people on the planet you could ever want to experience."

Where do you want to go next?
"We would love to join SBMA for another two week trip to other parts of India or perhaps Egypt, preferably allowing for special perks such as going to places others normally don't gain admittance to and being guided by top specialists and knowledgeable guides along the way, something we know SBMA can do!"
---
Update, 5/24/2020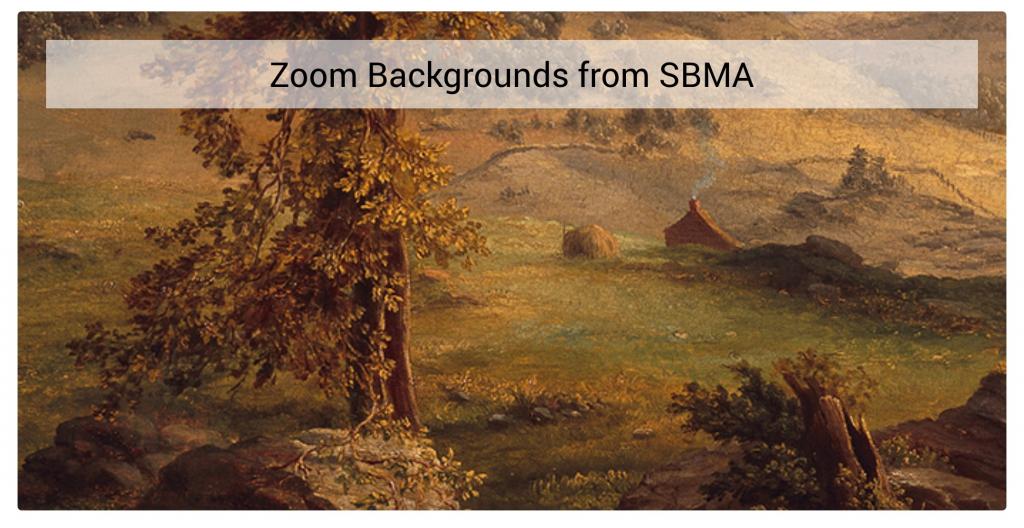 SBMA At Home is a new addition to the Museum website and includes curatorial content, such as virtual tours and past lectures, as well as family-friendly art lessons and projects created by Museum Teaching Artists and educators. Bringing the Museum home addresses the ongoing human need to connect; a desire that is especially strong at times like this. SBMA At Home provides that connection, from something as small as a momentary distraction, to inspiration, respite, a chance to learn something new, or an activity to do as a family.
---
Update, 5/20/2020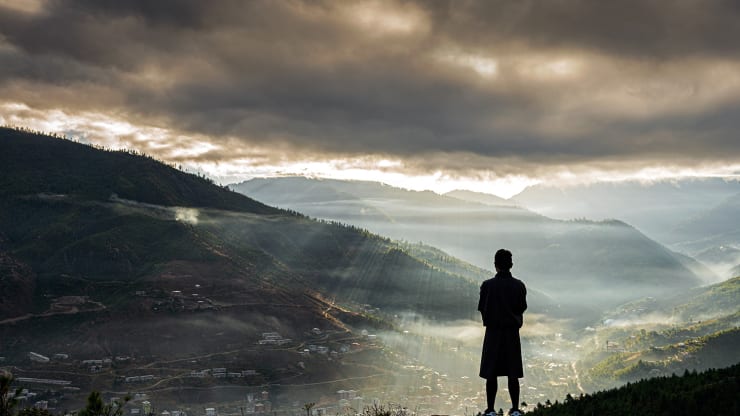 This article took me on a virtual trip back to Bhutan, perhaps my favorite country to visit, where I have been twice and would happily return every year!  https://www.cnbc.com/2020/05/13/travel-to-bhutan-an-authentic-experience-in-asia.html ~ Lisa, SBMA Travel Manager
---
Update, 5/18/2020
A quote for these times of isolation:  "One's destination is never a place, but rather a new way of seeing things." - Henry Miller
---
Update, 5/14/2020
As the Museum continues to be closed and we continue to plan for the future of travel, we loved this short article by Pico Iyer, who always reminds us in the most beautiful words, why we travel. 
---
Update, 5/8/2020
Reminiscing about past travels? We would love to see your best SBMA Travel photos and hear your best travel memories. Send them to  travel@sbma.net.
Thank you Mary and Cinda for sharing your travel photos!

Sent by SBMA Traveler Cinda Erdman: a photo from the dining room of the Hotel Paris in Prague, SBMA tour to Vienna, Budapest and Prague in 2019.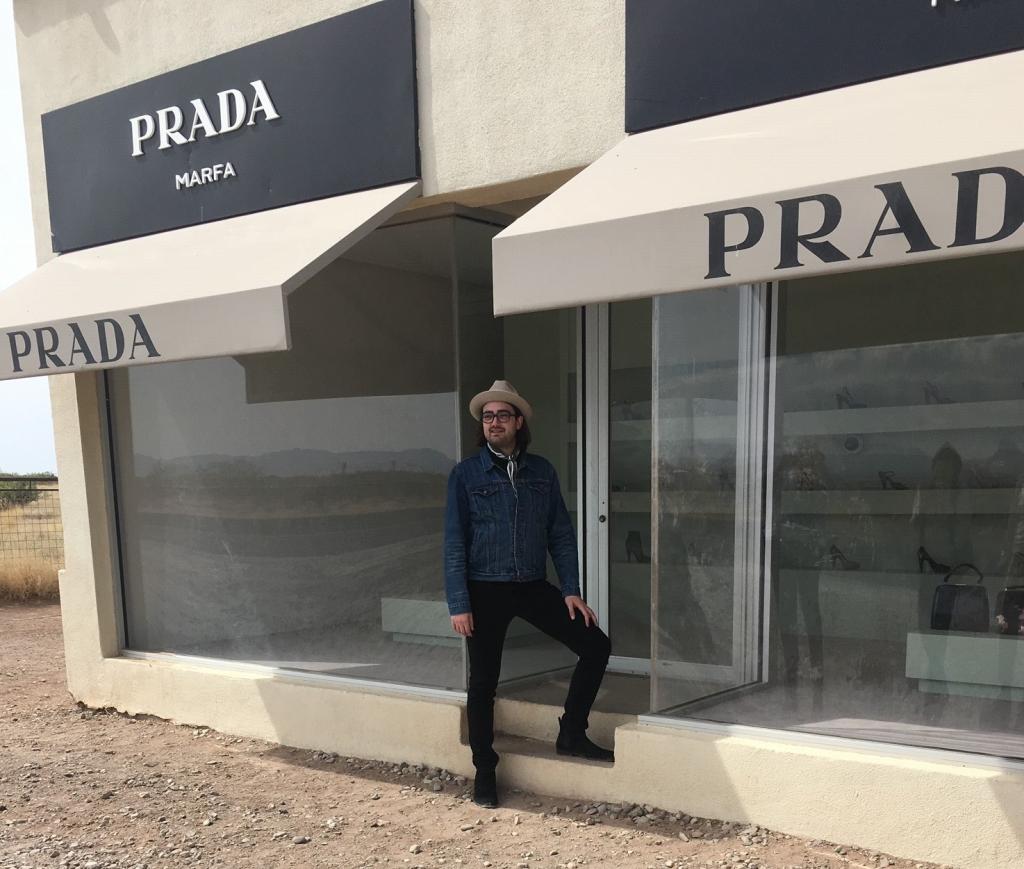 Sent by SBMA Traveler Mary Marks:  photo of Dylan Turk, study leader, SBMA tour to Marfa and Crystal Bridges in 2018.
---
Update, 5/5/2020 
From frequent SBMA travelers on how they are practicing "virtual" travels and looking forward to the future:
"I've had enough of this.  Let's get traveling!!"  - An avid SBMA traveler
"I have been very busy reliving wonderful trips to wonderful Italy. With the help of two newer books by Frances Mayes (she of 'Under the Tuscan Sun') I have been able to recreate some fabulous moments and plan a few for the future!  "See You in the Piazza" offers a more intimate travel account, complete with a few recipes..... good to enjoy with a lovely glass of wine, which she will also recommend.  "Always Italy" has the added value of some wonderful photography.  It seems Mayes knows and loves many of less visited locations we have enjoyed with Susie and Nigel. All things Italian are lovingly described, from the mini series 'My Brilliant Friend' to Taralli, those circular treats so delicious with aperol spritzes, which we all loved in Puglia!  Just spending time going through my old Susie itineraries and remembering special moments with Nigel reminds me how much I am looking forward to travel again!  Soon, very soon......." - Gwen Baker, SBMA Traveler and Trustee
---
Update, 5/1/2020
Lisa Benshea, SBMA Travel Manager, Looking Back and Forward
Lisa's favorite places:
~ Morocco for its colors, tiles, arches, designs, history.
~ Italy for its customs, Michelangelo, and gelato.
~ India for the fact I can't even put into words why I love it.
~ Mexico for all its variety, culture, art, food.
~ Bhutan for everything else! 
~ Plus Hawaii, because as the song goes, "I'll never forget where I'm from."
(And all these places for their wonderful people!)
Lisa's dream destinations of the moment:
~ Armenia, Georgia, Laos, Colombia, and Cape Cod
~ Plus all of the favorite places above, because everytime I go somewhere, it doesn't make my list of "places to go" any smaller, it just makese me want to go back to see more!
---
Update, 4/28/2020
Virtual Travel Ideas ~ Reminisce, SBMA Lectures Online, Books, Movies, and Planning of Future SBMA Tours: 
While these uncertain times have created endless challenges in the travel industry, we have found comfort in reminiscing about past tours. If you would like to reminisce with us, please email  travel@sbma.net with your favorite photo and/or memory from a past SBMA Tour. We can't wait to hear from you and the best photo will be featured in the next SBMA Members' Newsletter!
Looking to the more recent past, we have hosted some wonderful guest speakers for our Armchair Travel Lecture Series. If you didn't get a chance to see them in person we invite you to watch them from the comfort of your home, maybe paired with a cocktail or favorite viewing snack. Click Here and select Public Lectures, then click on one of the five Armchair Travel Lectures. 
A good read is becoming increasingly important right now, and we have been enjoying this list of great travel books and this list of amabassador recommendations for the one book you should read before visiting their country from Conde Nast Traveler.
Also from Conde Nast Traveler is this list of 50 great travel movies we thought you might enjoy.  
Finally, for those dreaming of the day travel is feasible again, we have updated our website with our plan for 2021 and beyond (subject to change). We are in constant communication with our contacts around the globe, putting together one-of-a-kind itineraries for you and getting ready for the moment when travel is once again on the horizon. 
---
Update, April 2020
The spread of Covid-19 has created unprecedented challenges for all of us. The health and safety of our travelers is our top priority. If you are a participant on an upcoming SBMA tour, we and/or the tour operator will continue to be in touch with updates regarding your trip and we will address each program on a trip-by-trip basis. Please contact travel@sbma.net with any questions. We are working from home but remain available to you.
It is at times like these that we feel especially grateful for our community of SBMA travelers, your loyalty and support through the years, and the memories of so many wonderful past trips. We hope that you and your loved ones are well and healthy. As our whole world faces true challenges, we remember that travel teaches us understanding, respect, and the importance of sharing ideas. We look forward with hope to the moment when we can once again wander the globe, connect with cultures, intermingle with people from other backgrounds, appreciate art, and share our interconnectedness with other human beings around the world.
In the meantime, we are putting together ideas for vicarious travels from the comfort of your home. New posts will be shared at the top of this page.
---
---
Update, 9/3/2020
---
Update, 9/22/2020
---
Update, 9/23/2020