School & Teacher Programs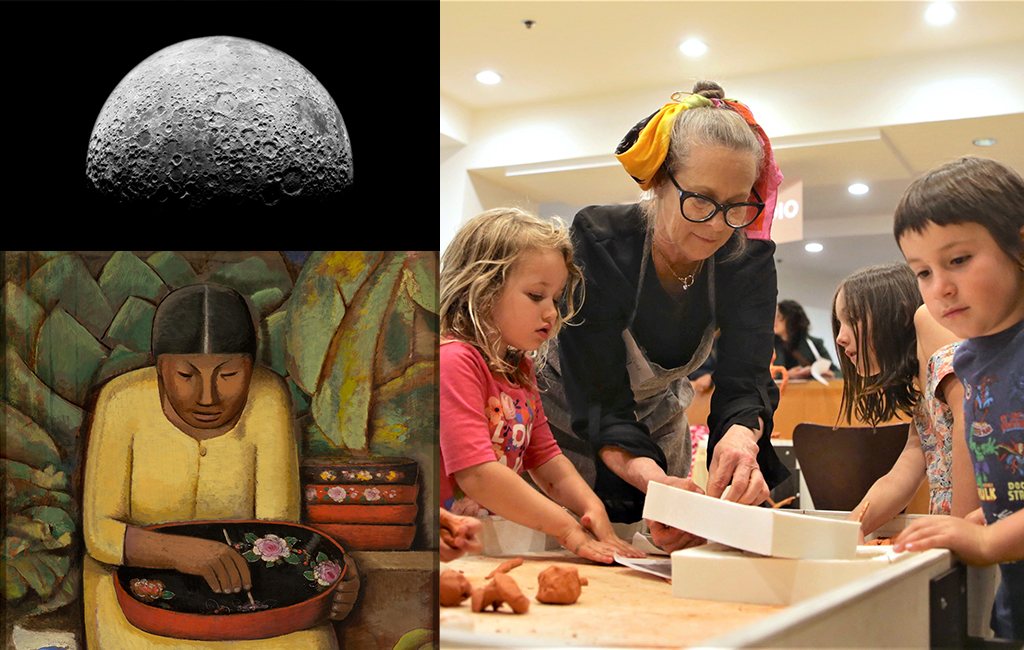 An Exciting Time of Change: Building a Better Museum
The Santa Barbara Museum of Art is in the final stretch of a renovation that will result in an increase in gallery and public space, enabling the Museum to showcase more of its permanent collection, welcome more visitors, and offer enhanced education spaces for school groups, families, and teachers. During this process, selected galleries and entrances will continue to be closed intermittently, so please check the Museum website for updates. To make sure your educational experience is as rich as possible, there are several different ways to see and make art in alternate spaces: in the Museum, art studio spaces at the Ridley-Tree Education Center at McCormick House, and out in the community. SBMA continues to build online resources and offer new learning opportunities, special programs, workshops, and events for educators while the building is transformed.
The Museum's exhibitions this year are rich and varied, ranging from the earliest 19th-century photographs that helped visitors see and understand the world, to the latest technology that allows us to glimpse the edge of our universe, and to new media work by Tatsuo Miyajima that encapsulates mathematical principals in an LED grid with undertones of Buddhist philosophy. The visual poetry of Alfredo Ramos Martínez and his works on paper added special resonance to the annual fall celebration of Día de los Muertos, and in spring, a revisiting of recent acquisitions of modern and contemporary art from the last decade reminds viewers of the exciting, thought-provoking work of our own time.
Throughout this critical project that will safeguard and preserve the collection and ensure the safety of visitors and staff, the Museum has been and will continue to be committed to remaining open, and, as always, extends the warmest welcome for teachers and students!
Please note: February 18 – March 16, 2020 there may be limited access to some galleries due to renovation and sprinkler repair.
SBMA School Tours
Register for School Tours Online
---
Program Brochures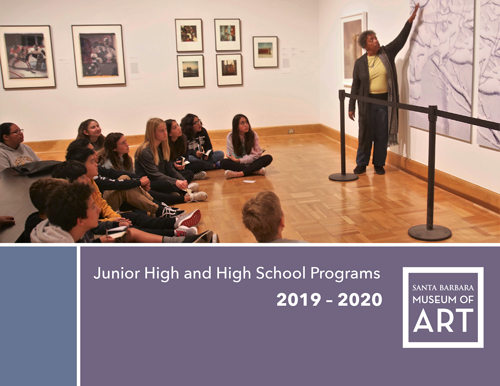 ---
For those outside of the SB School District busing stipends are available
For more information on the Museum's School and Teacher programs please contact Education at 805.884.6457 or email education@sbma.net.
---
Education Programs Donor Credit Line
The Santa Barbara Museum of Art gratefully acknowledges the generosity of our donors for their contributions to the Museum's Education Programs:
Schlosser Family Trust
Connie Frank and Evan C. Thompson
William A. Siegele Fund for STEM
Anonymous
California Arts Council
Joan Davidson and John Schnittker
Edison International
Robert & Mercedes Eichholz Foundation
Audrey Hillman Fisher Foundation
Kind World Foundation
Kirby-Jones Foundation
Towbes Foundation

Nancy B. Schlosser and the Schlosser Family Trust Connie Frank and Evan C. Thompson, California Arts Council, Bank of America Charitable Foundation, Meg and Daniel Burnham, Crane Country Day School, Joan H. Davidson, Edison International, Robert and Mercedes Eichholz Foundation, Audrey Hillman Fisher Foundation, Griffiths Charitable Foundation, Charlotte Gullap-Moore and Jeffrey A. Moore, William Randolph Hearst Endowment for Education, William P. Howard and Cindy Pitzer, Kind World Foundation, Kirby-Jones Foundation, Elizabeth and Joseph Knowles, Sharon Kussman, LLWW Foundation, Barbara Leighton, Sarah Jane Lind, Diane and Doug Morgan, Samuel B. and Margaret C. Mosher Foundation, Ridley-Tree Foundation, SBMA Women's Board, Maryan Schall, Schlinger Family Foundation, Mary Lynn and Warren Staley, Towbes Foundation, U.S. Bank, Village Properties, Wells Fargo Foundation, Williams-Corbett Foundation, Barbara and J. Taylor Woodward, and donations made to the Annual Fund and in Memory of Natalie Browning Harpham.