School & Teacher Programs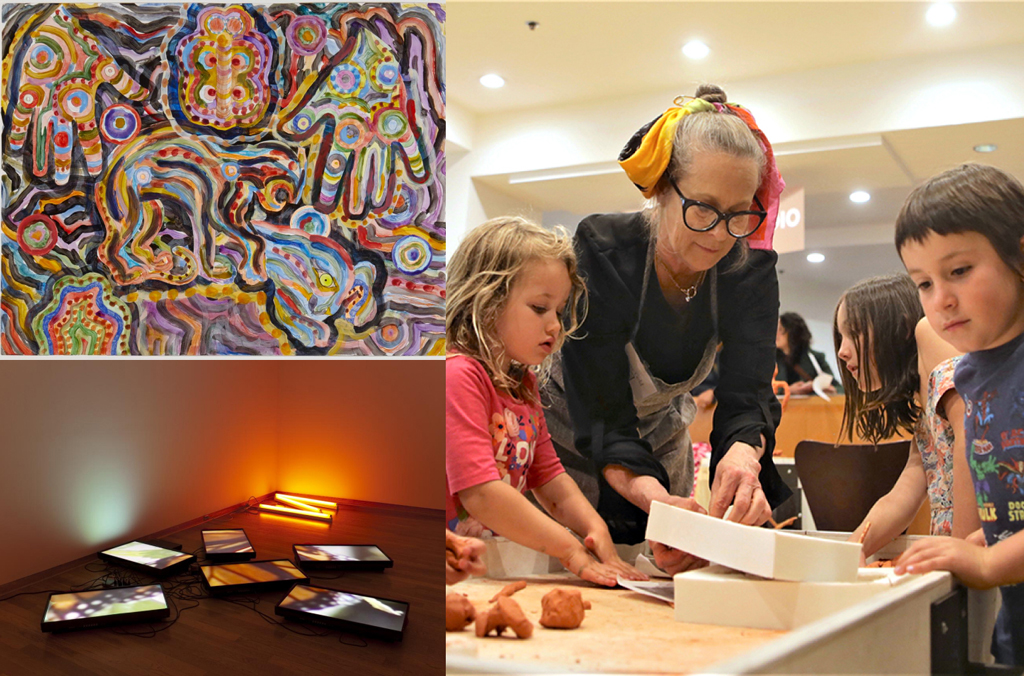 ---
Dear Colleagues,
As we begin the 2021 – 2022 academic year, we remain grateful and inspired by the work you continue to do to guarantee that your students have access to learning in this ever-changing educational landscape. We look forward to welcoming you and your students back to the Museum to explore our newly reopened galleries and to experience our programming—whether virtual or in-person.
In addition to school field trips to the Museum, we continue to develop new offerings and digital resources for your students to engage with SBMA's collection. These include lessons that increase student awareness on a range of topics, including social justice, mindfulness, nature, science, and ethnic studies.
We believe that integrating works of art into your teaching is an important aspect of social and emotional learning. Through art, we can deepen curricular connections, explore expanded narratives, raise questions, and spark conversation.
As we recognize the changing face of COVID, we understand that this year may require continued flexibility and adaptation. We will provide updates here as the situation changes or we have new information to share.
We also remain dedicated to making SBMA's school programs and field trips more relevant, accessible, and culturally responsive. To continue to help us best determine what we can do to be a resource and partner to you, we would love to hear your suggestions and feedback. Please let us know how we can support you and your students this year. You may send your comments to education@sbma.net. In the meantime, be sure to check our SBMA At School page for art projects, educational videos, artist-designed activities, and discussion questions you can use with your students. We hope you will also find inspiration in the Museum's online collection and our Google Drive of Educational Resources.
Thank you for all that you do. We look forward to welcoming you back to SBMA!
Patsy Hicks
Director of Education
Santa Barbara Museum of Art
SBMA School Tours
Register your students for virtual or in-person field trips!
Register for School Tours Online
---
Program Brochures
Grades K – 6
Virtual Educational Resources
Grades 7 – 12
Virtual Educational Resources
Grades K – 6
School Programs
Grades 7 – 12
School Programs
---
---
SBMA Education Donors
The Santa Barbara Museum of Art gratefully acknowledges the generosity of our donors for their contributions to the Museum's Education Programs:
Nancy B. Schlosser and the Schlosser Family Trust
Robert and Mercedes Eichholz Foundation
California Arts Council
SBMA Women's Board
Audrey Hillman Fisher Foundation
Rose Community Foundation
David and Stefanie Jackson
Connie Frank and Evan C. Thompson
Patricia Aoyama and Chris Kleveland
Joan Davidson
The Towbes Foundation
Ridley-Tree Foundation
Carol MacCorkle
Kathleen Feldstein
Montecito Bank & Trust
Steele Family Foundation

Jane and Kenneth Anderson, Betsy Blankenship, Kimberly and Geoffrey Crane, Susan Flannery, Martha Gabbert, Sheila Greenbaum and Gary Wasserman, Beth Higbee, Mary Ellen Hoffman, Lucille and Richard Janssen, Judy and David Jones, Karen Kawaguchi, Jere and Fima Lifshitz, Judith Little, Ellen Morales, Rosemary and Nick Mutton, Michael O'Brien, Rebecca and Rick Oshay, Stephanie Reiss, Maryan Schall, Kathy and Brian Schultz, Jacqueline and Stephen Simons, Irene and Robert Stone, Sarah and Phillip Vedder, Sharon Westby, Carla and Leslie Wilson, Barbara and Taylor Woodward, Zegar Family Fund in Honor of Betsy Newman, Ellen and Gregory Zeiger, Shiela and Bradley Zeiger, Cynthia Ziegler, Christopher Zyda, and donations made to the Annual Fund.