School & Teacher Programs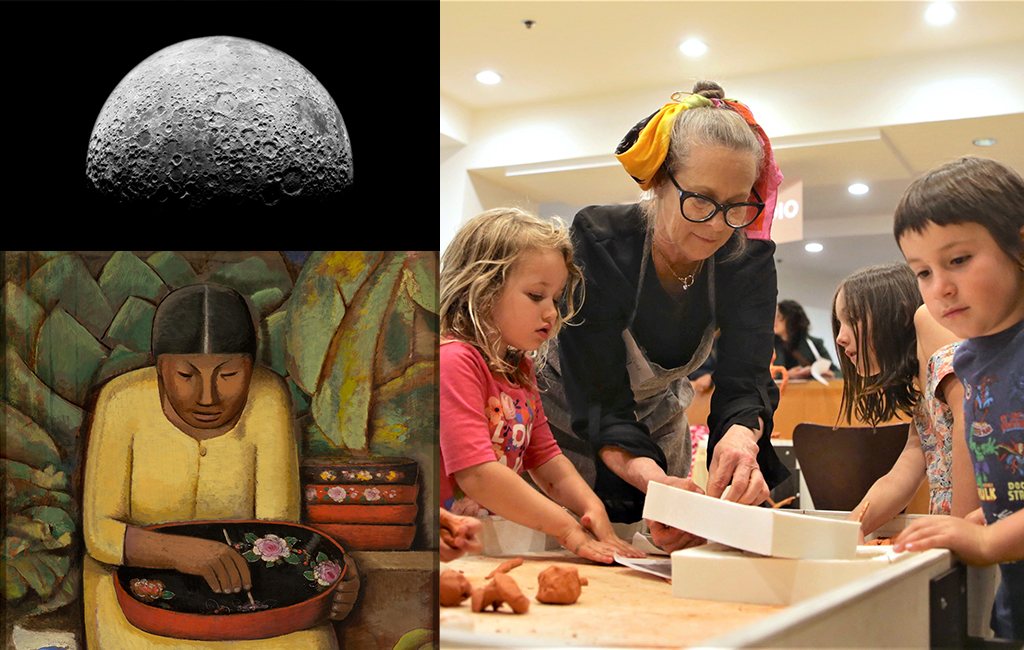 ---
Dear Teachers,
We know you're worried about your students and your communities at this time and we share both your concern and desire to help. We are grateful and inspired by the work you are doing to guarantee that your students have access to continued learning as our schools have closed due to the COVID-19 pandemic.
SBMA is closed temporarily until further notice but we are working to reschedule as many programs and events as possible in the future and to develop online resources as soon as we are able.
To help us best determine what we can to do to be a resource and partner to you during this time, we would love to hear your suggestions. Please let us know how we can support you and your students. You can send your ideas and suggestions to ehancock@sbma.net. In the meantime, we hope you will find inspiration in SBMA's collection online as well as in our teacher resources and lesson plans.
Thank you for all that you do for your students. We look forward to welcoming you back to SBMA.
Patsy Hicks
Director of Education
Santa Barbara Museum of Art
SBMA School Tours
Register for School Tours Online
---
Program Brochures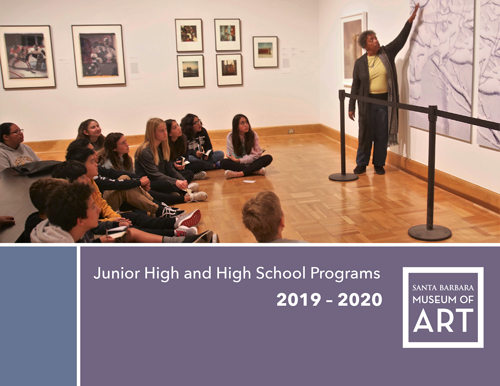 ---
For those outside of the SB School District busing stipends are available
For more information on the Museum's School and Teacher programs please contact Education at 805.884.6457 or email education@sbma.net.
---
Education Programs Donor Credit Line
The Santa Barbara Museum of Art gratefully acknowledges the generosity of our donors for their contributions to the Museum's Education Programs:
Schlosser Family Trust
Connie Frank and Evan C. Thompson
William A. Siegele Fund for STEM
Anonymous
California Arts Council
Joan Davidson and John Schnittker
Edison International
Robert & Mercedes Eichholz Foundation
Audrey Hillman Fisher Foundation
Kind World Foundation
Kirby-Jones Foundation
Towbes Foundation

Nancy B. Schlosser and the Schlosser Family Trust Connie Frank and Evan C. Thompson, California Arts Council, Bank of America Charitable Foundation, Meg and Daniel Burnham, Crane Country Day School, Joan H. Davidson, Edison International, Robert and Mercedes Eichholz Foundation, Audrey Hillman Fisher Foundation, Griffiths Charitable Foundation, Charlotte Gullap-Moore and Jeffrey A. Moore, William Randolph Hearst Endowment for Education, William P. Howard and Cindy Pitzer, Kind World Foundation, Kirby-Jones Foundation, Elizabeth and Joseph Knowles, Sharon Kussman, LLWW Foundation, Barbara Leighton, Sarah Jane Lind, Diane and Doug Morgan, Samuel B. and Margaret C. Mosher Foundation, Ridley-Tree Foundation, SBMA Women's Board, Maryan Schall, Schlinger Family Foundation, Mary Lynn and Warren Staley, Towbes Foundation, U.S. Bank, Village Properties, Wells Fargo Foundation, Williams-Corbett Foundation, Barbara and J. Taylor Woodward, and donations made to the Annual Fund and in Memory of Natalie Browning Harpham.