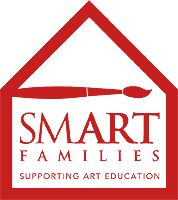 smART Families is an SBMA support group whose members are dedicated to educating their children in the visual arts, while also supporting the larger art education outreach activities of the Santa Barbara Museum of Art.
The program consists of five events per school year, where children and their families explore SBMA's world-class exhibitions. Using the concepts learned from private docent talks, children have the opportunity to create their own masterpieces, using a wide variety of materials and techniques.
The smART Families Junior Docents Program enables children grades five and above to work with a seasoned Museum Docent to gain a broader, deeper knowledge of the exhibitions at the Santa Barbara Museum of Art. To learn more about the program, click here.
Join today at one of the following levels and enjoy these benefits:
smART Families: Basic Membership - $450
Invitation to all the smART Families events
Unlimited free admission per Member household
One year's subscription to our newly-expanded quarterly newsletter
Invitations to Members-only exhibition previews
10% discount on Museum Store purchases
10% discount on dining in the Museum Café
Discounts on SBMA's ArtVenture camps and workshops
Free or reduced admission to films, lectures, gallery tours, concerts and other events
A variety of travel opportunities each year focus on art, architecture, and gardens, often including private visits, along with guest lecturers and expert guides
Check-out privileges at the Museum's Constance and George Fearing Art Library
New Members welcome reception
smART Families: Patron Membership - $700
All the benefits of Basic membership, plus
Four passes to the museum and a private docent tour for your family of a current exhibit
smART Families: Friend Membership - $1,000
All the benefits of Patron membership, plus
2 passes to Atelier event
smART Families: Benefactor Membership - $1,500
All the benefits of Friend membership, plus
Invitation to a special Benefactor Bonus event
smART Families: Founders Circle - $2,500
All the benefits of Benefactor membership, plus
Invitation to dinner in a private home
Special recognition in the SBMA newsletter
We would like to express our deepest gratitude for the generosity
of the following
smART Families
donors in 2013-2014:
Founders
Deardorff Family
Markham Family
Benefactors
Jackson Family
Muller Family
Shelburne Family
Friends
Jones Family
Patrons
Bilek Family
Blake Family
Garrett/Biddlecome Family
Marcillac Family
McCoy Family
McMillan/Kenny Family
Peus Family
Tiller Family
Wooten Family