This free program is for students aged 12 – 14 with a passion for art, a curiosity for learning in a museum environment, and a craving for new experiences with artists and peers. Mentored by an SBMA Teaching Artist participants dive into the themes of a current exhibition and/or a featured artist during a session of four – six weekly classes. Inspired by these themes, the group creates art in a variety of mediums, showcases their resulting artwork, and leads activities connected to their discoveries at a culminating event.
Classes take place 4 – 6 pm on Thursdays at the Santa Barbara Museum of Art or Ridley-Tree Education Center at McCormick House. There is a 12-student capacity and enrollment is on a first-come, first-served basis. Participants must be able to commit to all classes and the culminating event dates within each session.
For more information please contact the education department: communityprograms@sbma.net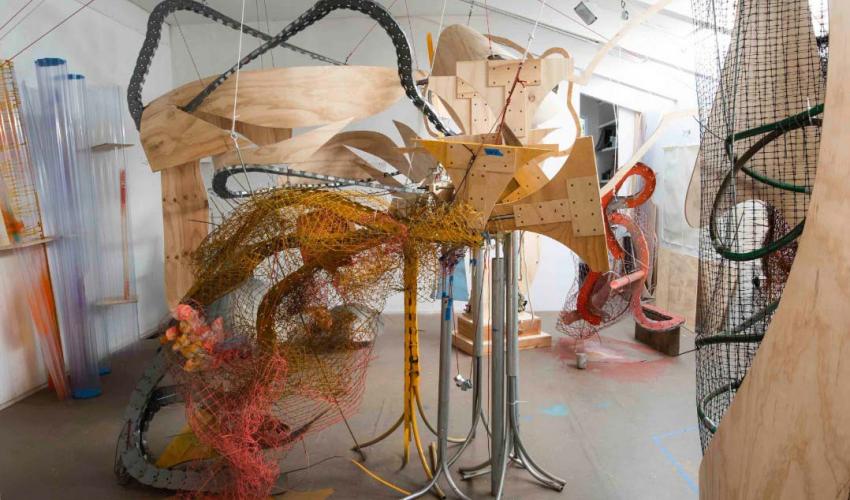 Joan Tanner, Yellow Mesh, 2020. Flex a Trac™, painted plastic mesh, painted plastic sheeting, wooden elements, metal rods, all-thread, rope, zip ties, hardware, painted sheet metal. Courtesy of Joan Tanner, © 2022
Winter Session – Sculpture as Set-Design
January 19 – February 9
Over the course of four weeks, students create a performance backdrop inspired by the large-scale sculpture of local artist Joan Tanner, whose work will be on view in the exhibition Out of Joint, February 12 – May 14, 2023.
The set piece will be installed in the Museum's Mary Craig Auditorium for the February 12 concert, Ted Nash - Transformation: The Music of Words, featuring student composers and writers from a workshop led by Grammy Award-winning saxophonist and composer Ted Nash.
Program Timeline
Winter Session (four weekly classes on Thursdays, 4 – 6 pm):
January 19 - class takes place at SBMA, 1130 State Street
January 26 – February 9 – classes take place at the Ridley-Tree Education Center, 1600 Santa Barbara Street
Application Due: Thursday, January 5, 2023
Start Date: Thursday, January 19, 2023
Final Class: Thursday, February 9, 2023
Culminating Event: Sunday, February 12, 2023, 3 – 4 pm
Program is full
To be added to the e-teen email list for the 2023 – 2024 Fall Winter and Spring Session please email Communityprograms@sbma.net
E-Teen Program Support
SBMA is pleased to offer the E-Teen After-School Program at no cost to local students. Please consider a voluntary donation to the Education Fund. Any amount is appreciated!